Hockey
"Great hockey staff. Steve Centers, Jeff and Randy are always ready to help your knowledge of getting your child most prepared for success in youth hockey." – Jim C.
NEW! Off-Ice Training Offered In Athletic Performance Shelf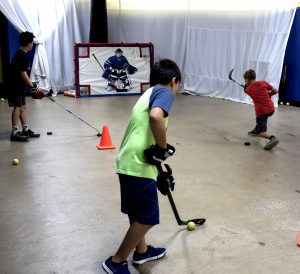 A new off-ice hockey training room is now located in space that was previously the Gymnastics Shelf. The space accommodates 15-18 kids at a time and will be available for sports conditioning programs for all athletes. Synthetic ice adds new additional training opportunities. Top players focus on off-ice strength, plyos, agility, footwork, toughness, athletic training, etc. in the off season. The new training facility will enable passionate players to drastically improve skating technique and power, speed, stick skills, shooting power, accuracy ,release, secrets to scoring, checking skills etc. using video and benchmark testing.
Features include:
Great staff – Mentoring by the top goalie coach in the country
4 Boni shooting machines with special electrical reels on both rinks and in the off ice training center
Dedicated weekly clinics
NEW- Crease bands for perfect positions
Synthetic ice for "real" off ice training
Safety padding on all walls to allow for safe game play and checking fundamental training
Retractable Netting partitions to form 5 separate enclosed stations, fully adjustable to needs
Portable synthetic ice for 7 elements of skating training and realistic puck stick and shooting skill training
Numerous stickhandling tools
Shooting targets-radar
Various affixed heavy duty resistance bands for leg power and shooting mechanics and power
Large power tires, weights, ladders, skip ropes, resistance bands, step boxes, Bosu balls, circles, soccer, boxing training methods, box lacrosse and much more
Portable video equipment for the ultimate in personal training
Electrical reels for goalie Boni machine training
The latest in training techniques and curriculum
Use of indoor track for speed
Junior Wolf Pack – Starter Skate Class
Get your hockey career started in the "greatest game on earth" in this renowned extremely popular 2 day per week "skating only" program that is ideal for the athlete that has never skated or has limited experience on skates. To fully enjoy playing hockey it is vital players first learn the 7 key skating elements to be able to apply to the other 4 major skills of hockey.
Our excellent professional staff and levels within the program enable players to progress at the speed that suits them.
The progression includes two specific categories:
• First Steps to Skating- Players will learn to get up and down on skates, stand, walk , march glide and use edges in the beginning stages of functional skating. Bike helmets and ski gloves or similar are mandatory.
• Free Skating and Movement-Players then progress to working on the 7 elements of skating while enjoying creative movement in various activities/games. Players in this group must supply their own USA Hockey approved hockey helmet with a full face mask. Plastic sticks may be introduced at the end of the session. Price includes both days.
Click here for Junior Wolf Pack Junior info.
Jr. Wolf Pack – Hockey Skills Development Class
This renowned training is for players 5 to 15 yrs that have graduated from the Jr Wolf Pack Starter Skater Program where the skating skills enable the learning and execution of the other 4 major skills (stick handling, passing, shooting and safe checking) Although the focus on the program remains the mastering of the "Sumo System" of skating it also includes training in stick work and small area games. Etc. The goal is to prepare players to advance to playing on a Wolf Pack hockey team. Players are to supply USA Hockey approved hockey helmet with full face mask and a stick (purchase low cost stick that comes up to nose without skates and has minimal curve). All other equipment is available up to certain sizes. Price includes both days. Click here for Wolf Pack Development info.
Goalie Academy
Want to try being a goalie? Or are you looking for personalized training in weekly skills sessions for goalies? Excellent instruction in a positive atmosphere by professional, highly motivated and talented instructors. Contact Randy Jordan at 847-285-5501 or rjordan@heparks.org for more information.
Jr. Wolf Pack – Mite In-House League
This in house league creates house teams to enable players to learn game play in cross, half and full ice contests. Learn one on one offensive and defensive approaches. Puck movement. Using the body effectively and safely. Learn how to compete! Players will be recommended by coaches from the Jr. Wolf Pack when this next step makes sense. Players can add this to their training at any time. It is recommended to continue mastering the 5 major skills in the 2 day Jr. Wolf Pack Hockey Skills Classes. . Click here for more info.
Wolf Pack Hockey Club
The Wolf Pack Hockey Club (WPHC) of Hoffman Estates, IL, is a Tier III club playing in the Northwest Hockey League (NWHL), and Tier II club playing in Northern Illinois Hockey League (NIHL).
In its six year existence the Wolf Pack Hockey Club has become among the largest participating teams and player membership in the Northwest Hockey League. Exploding player registration numbers, a continued growth of existing players, and a focus on 5 skill advancement, has created the need for new levels for the more experienced, focused and skilled players that for various reasons, proximity, training methods and program philosophy may continue playing for the Wolf Pack Hockey Club.
In 2010-11, our first and probationary year at NIHL, the Wolf Pack fielded three teams. All teams were placed at the Silver level, and each team finished in the top 5 of the top tier, two won the President's Cup, and one finished second in the Blackhawk Cup. Following the 2010-2011 season, the Wolf Pack Hockey Club was approved a full Tier II program and grown into a large Tier II club fielding teams at every level.
The WPHC has focused on and had great success with our development program. The Wolf Pack Hockey Club has established a development philosophy that depends upon and prides itself on organic growth. The developmental program is responsible for starting hundreds of new hockey players with a solid hockey foundation recognized by USA Hockey. A sizeable Hoffman Estates Park District investment in "one goal" equipment, the training of a number of focused coaches in a systematic (SUMO) process of development and then a belief that more coaches and ice time engages, creates faster enjoyment and commitment to the sport has seen numbers go beyond any imaginable estimates.
Please visit the wolfpackhockeyclub.org website for details or contact Randy Jordan at 847-285-5501 or rjordan@heparks.org.
WOLF PACK HOCKEY NORTHWEST HOUSE LEAGUE
(Squirt, Pee Wee, Bantam and Midget)
REGISTRATION OPENS JULY 31 FOR NEW PLAYERS TO WOLF PACK
We are very excited to have just set up on line registration for all registration including payment plans.
Registration can still be done at the front desk or by secure fax @ 847 285 5555
NEW PRICING- MORE HOCKEY FOR LESS!!!
The park district hockey is reducing all Mite, Northwest Hockey League and Wolverine pricing. With the state tax increase, Blackhawks rebuilding etc the park district wants to keep players starting and continuing to play our great game. Despite the reduced rates our players will receive as much and generally more ice time than other programs in the same leagues. (3 x week plus away games) Now all teams will use the new off ice Performance Training Center (professional players are saying it is one of the best training facilities they have ever seen) and be able to participate the new total athlete Overspeed training program. (Road hockey, strength, speed, agility, stick work and shooting training and personal goalsetting through regular combines testing)
Registration for the Wolf Pack Northwest Hockey League (house/travel) is now open for returning NWHL ,in house and development fall and spring players. As a reminder NWHL is a park district program where the agency and league rules are first come first serve for players determined capable of playing at the level. With that, players deemed not ready for the level of play will be recommended to continue in a development program. The evaluations are to evaluate players for ability to properly place on teams that if more than one at a level. Teams should be competitive with each other.
The league requires that teams change rosters from season to season thus there are no friend requests. Only when absolutely necessary will car pool requests be considered. See attached form.
Players must be registered with the park district to be dated if there is need to go to a wait list. Registration requires either full payment or a $300 deposit ,the completion of the EFT payment plan and your 2017/2018 USA Hockey registration. If necessary registration can be still be submitted at the front desk of Triphahn Center
If registering at the front desk a copy of your 2017/2018 USA Hockey registration is required at that time. Click here for link If you registered after April 1, 2017 you are covered until August 31st , 2018.
PLEASE NOTE: Travel Registration information to come from the Wolf Pack Hockey Club www.wolfpackhockeyclub.org . Registering for travel does not register for NWHL. They are totally separate entities. To secure a spot for NWHL players must be registered through the park district regardless if they plan to try out for travel.
Pre-Season Skates– These are not mandatory, but will be limited in numbers. They are for any players looking to play NWHL , Mite and Wolverines girls hockey
Players registered for the Wolf Pack team season as above are able to skate in the pre skates for no additional charge.
If room is available there will be a separate registration for players not registered for pre skates…. information to come.
Click here for Wolf Pack Fall 2017 TEAM REGISTRATION FORM
Click here for carpool request form.
Click here for HEPD FALL 2017 PAYMENT PLAN EFT Fee Schedule (1)

WOLF PACK NWHL SQUIRT PEE WEE BANTAM MIDGET PRE SKATE AND EVALUATION SCHEDULE NWHL (Wolverines Skate Pre Skates Coed at appropriate age)
NWHL- Pre Skates
Aug 24 Squirt 6:20 R2 – Pee Wee 7:10 R1 – Bantam 8:20 R1, Midget 8:40 R2
Aug 29 Squirt 5:30- PW 6:30- Bantam 7:30 and Midget 8:30 R1
Aug 31 Squirt 5:30- PW 6:30- Bantam 7:30 and Midget 8:30 R1
Sept 7 Squirt 5:30- PW 6:30- Bantam 7:30 and Midget 8:30 R
Evaluations- 1 hour sessions (Midgets to be determined based on if evaluations are required)
Sept 10
Squirt 9:00am R2
Wolverines 10:10 R2
Pee Wee 11:20
Bantam 12:30
Sept 12
Squirt 5:00 to 5:50 R2
Wolverines 5:30 to 6:30 R1
Pee Wee 7:30 to 8:20 R2
Bantam 8:30 to 9:20
USA HOCKEY AGE CATEGORY FOR SPRING, FALL and WINTER HOCKEY 2017/2018
| | | |
| --- | --- | --- |
| DATE OF BIRTH | AGE CATEGORY | AGE DIVISION |
| 1999 | 18 Years | Midget 18 & Under |
| 2000 | 17 Years | Midget 18 & Under |
| 2001 | 16 Years | Midget 16 & Under |
| 2002 | 15 Years | Midget 16 & Under |
| 2003 | 14 Years | Bantam 14 & Under |
| 2004 | 13 Years | Bantam 14 & Under |
| 2005 | 12 Years | Pee Wee 12 & Under |
| 2006 | 11 Years | Pee Wee 12 & Under |
| 2007 | 10 Years | Squirt 10 & Under |
| 2008 | 9 Years | Squirt 10 & Under |
| 2009/2010 | 8 & Under | Mite 8 & Under |
| 2011 | 6 & Under | 6 and Under |
MITE HOCKEY OPTIONS FOR 2017/2018 SEASON
TEAM LEAGUE PLAY AGAINST OTHER PROGRAMS
Coyote CUHL House Team Play– Players born in 2009 or later are eligible to play in this AAU league (Average 3 ice times and additional off ice per week) http://chicagounitedhockey.com/ www.hecoyotes.org (to be updated)
Although competitive, this league is for players that have gained the ability to skate, handle the puck and compete against other programs house league teams- Includes high level skill training and team practices plus home and away games. Team jerseys team jerseys are supplied to borrow for the season. We don't want people to have to pay for jerseys as they move to Wolf Pack jerseys at Squirts. Practices start early September and games a little later in the month.
Price Res $1100 Non res $1152.00 – $300 deposit and payment plan available. REGISTER ON LINE! Or at the front desk
Coyotes Travel- Competitive travel team play- (all players born 2009 or later are eligible in this AAU League). (average 4 ice times plus away games plus additional off ice sessions per week) For the passionate dedicated child that looks to play with and compete against similar players from other travel programs. Includes more games and practice starting in September, more sophisticated and advanced training and game learning and world class tournament events.
Two tournaments included in the cost. http://chicagounitedhockey.com/
Travel Mite Coordinator and Team 1 Head Coach-Past Pro Player and high level Coach Steve Centers creates a team environment of on and off ice fun and events unlike anyone else. He runs his teams with a professional feel in a super exciting and enjoyable atmosphere. Players have a great time improving! www.hecoyotes.org
Price: Total Res $1700 Non Res $1752 – $300 deposit and payment plan availableREGISTER ON LINE! Or at the front desk.
Note: Pre skates will enable coaches to best advise players as to the best plan for the season. Please DO NOT register for AAU until teams have been determined
Payment plans available for all full team registration.
Fall Season Pre Skates, Tryouts and Evaluations
Pre skates are for all players planning to play Mite Hockey
Players Registering for "Mite Hockey" for the $300 deposit are entitled to do all pre skates and Coyote tryouts for both travel and house teams evaluations for no additional cost
Hockey Camps
Hoffman Estates Park District offers several camps seasonally to address the needs of new skaters to developing athletes. Click here for camp details and to register.
Wolverines Hockey is a Great Game for Girls!
Click here to learn more about the Wolverines
Click here for Wolverines registration form.
Click here Wolverine Fall 2017 Payment Plan
Adult Hockey Lessons
For a great way to have fun and get fit, hockey just can't be beat! This fun, low-key course is open to men and women. Focus on the key skating components and then apply them to stick handling, shooting, passing and safe checking. Through on-ice exercises you will see great progress and be able to play games in no time. Click here for informations and registration.
Adult Drop-in Hockey
The Ice Arena offers regular drop in hockey for adults. Call about Sunday Nights 847–885–7500. *Players must be 18 or older. ID required. Bring your own equipment and helmet.
Rates
$10 per visit
$70 for 10 visits
Click here for Drop In Hockey hours.
Skating Special Events
Hoffman Estates Park District offers many fun and exciting skating special events. Skating Events held thoughout the year: Ice Show, Egg Slide, Great Pumpkin Skate, Skate with Santa and many more! Click here for more information on special events.
Parents
Why sit idle while the kids are on the ice when you can get fit? Get moving at the Triphahn Fitness Center.
---
Contact for Hockey: Randy Jordan, 847-285-5501, rjordan@heparks.org