Hockey
Summer 2018 Registration is Open!
Summer is a great time to focus on improving all areas of the game while still getting a competitive challenge. This summer will see a major focus on improving skating mechanics, explosive speed, stick and competitive/urgent game training through hi-tempo scrimmage every session. We expect this summer to be the most influential training period for our passionate players.
As below, the number of teams and players on a team will be determined by the desire and readiness of players. Players not quite ready will get excellent training in the skills sessions etc. Players deemed ready to play are accepted on a first come basis. Registering for travel does not secure a place in NWHL. An addition refundable down payment must be made to secure a spot.
Note: There is a two payment option. Registration can be done online here.
Please read the flyers below for more detailed information. NOTE: Midget and Wolverine programs are being finalized. Please feel free to contact Randy Jordan at 847-285-5501 for more information!
We are always looking to add to our coaching staff. If you are interested or know of good people please have them contact Randy at rjordan@heparks.org.
Mites Saturday Clinic click here for information
Wolf Pack Summer Camp Click here for information
Wolverines – Girls Summer Training Click here for information
Overspeed Extreme Clinics – Overspeed Defense, Mite Overspeed, Overspeed Extreme Click here for information
"Great hockey staff. Steve Centers and Randy are always ready to help your knowledge of getting your child most prepared for success in youth hockey." – Jim C.
Off-Ice Training Offered In Athletic Performance Shelf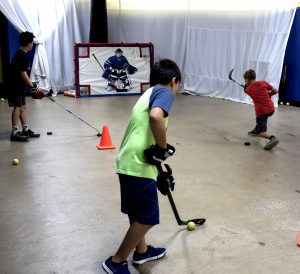 A new off-ice hockey training room is now located in space that was previously the Gymnastics Shelf. The space accommodates 15-18 kids at a time and will be available for sports conditioning programs for all athletes. Synthetic ice adds new additional training opportunities. Top players focus on off-ice strength, plyos, agility, footwork, toughness, athletic training, etc. in the offseason. The new training facility will enable passionate players to drastically improve skating technique and power, speed, stick skills, shooting power, accuracy, release, secrets to scoring, checking skills etc. using video and benchmark testing.
Features include:
Great staff – Mentoring by the top goalie coach in the country
4 Boni shooting machines with special electrical reels on both rinks and in the off-ice training center
Dedicated weekly clinics
NEW- Crease bands for perfect positions
Synthetic ice for "real" off-ice training
Safety padding on all walls to allow for safe game play and checking fundamental training
Retractable Netting partitions to form 5 separate enclosed stations, fully adjustable to needs
Portable synthetic ice for 7 elements of skating training and realistic puck stick and shooting skill training
Numerous stickhandling tools
Shooting targets-radar
Various affixed heavy duty resistance bands for leg power and shooting mechanics and power
Large power tires, weights, ladders, skip ropes, resistance bands, step boxes, Bosu balls, circles, soccer, boxing training methods, box lacrosse and much more
Portable video equipment for the ultimate in personal training
Electrical reels for goalie Boni machine training
The latest in training techniques and curriculum
Use of indoor track for speed
Goalie Academy
Want to try being a goalie? Or are you looking for personalized training in weekly skills sessions for goalies? Excellent instruction in a positive atmosphere by professional, highly motivated and talented instructors. Contact Randy Jordan at 847-285-5501 or rjordan@heparks.org for more information.
USA HOCKEY AGE CATEGORY FOR 2018 SUMMER HOCKEY
| | | |
| --- | --- | --- |
| DATE OF BIRTH | AGE CATEGORY | AGE DIVISION |
| 2000 | 18 Years | Midget 18 & Under |
| 2001 | 17 Years | Midget 18 & Under |
| 2002 | 16 Years | Midget 16 & Under |
| 2003 | 15 Years | Midget 16 & Under |
| 2004 | 14 Years | Bantam 14 & Under |
| 2005 | 13 Years | Bantam 14 & Under |
| 2006 | 12 Years | Pee Wee 12 & Under |
| 2007 | 11 Years | Pee Wee 12 & Under |
| 2008 | 10 Years | Squirt 10 & Under |
| 2009 | 9 Years | Squirt 10 & Under |
| 2010/2011 | 8 & Under | Mite 8 & Under |
| 2012 | 6 & Under | 6 and Under |
Hockey Camps
Hoffman Estates Park District offers several camps seasonally to address the needs of existing hockey players (6-15) passionate on improving their game to be at full speed for fall hockey. Click here for more information
Adult Hockey Lessons
For a great way to have fun and get fit, hockey just can't be beat! This fun, low-key course is open to men and women. Focus on the key skating components and then apply them to stick handling, shooting, passing and safe checking. Through on-ice exercises, you will see great progress and be able to play games in no time. Click here for information and registration.
Adult Drop-in Hockey
The Ice Arena offers regular drop-in hockey for adults. Call about Sunday Nights 847–885–7500. *Players must be 18 or older. ID required. Bring your own equipment and helmet.
Rates
$10 per visit
$70 for 10 visits
Click here for Drop In Hockey hours.
Skating Special Events
Hoffman Estates Park District offers many fun and exciting skating special events. Skating Events held throughout the year: Ice Show, Egg Slide, Great Pumpkin Skate, Skate with Santa and many more! Click here for more information on special events.
Parents
Why sit idle while the kids are on the ice when you can get fit? Get moving at the Triphahn Fitness Center.
---
Contact for Hockey: Randy Jordan, 847-285-5501, rjordan@heparks.org