Ice Arena

Triphahn Center Ice Arena – 1685 W. Higgins Road – View in Google Maps
---
Voted "Best of the Best" Ice Arena by the readers of the Daily Herald in 2018!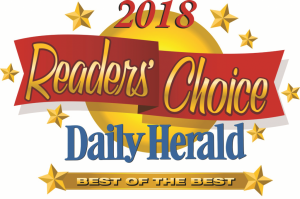 The Triphahn Ice Arena is a premier regional ice facility. This state-of-the-art arena offers two NHL sized sheets of ice, which are used for our freestyle, figure and hockey skaters, as well as serving as the practice facility for the Chicago Wolves. Our figure skating and hockey programs are known as one of the finest in the Chicagoland area.
Public Skate
Public Skate is offered every-other-Sunday from 1:30-3:30pm.  View Public Skate dates and pre-register to save time upon arrival. An attendant is present to help guests and ensure the safety of participants.
* Use of hockey equipment not allowed during public skate. Helmets are recommended.
Public Skate Registration Admission Rates
$3 per person
Skates
Skate Rental — $3 per pair
* Sizes 1 and under for our smallest skaters. Size 2-13 for youth and adult. Both hockey and figure skates available.
Freestyle Skate
For more information on Freestyle Skate schedules, visit the Figure Skating page. 
Drop-in Adult Hockey
The Ice Arena offers regular drop-in hockey for adults on Sundays from 6-8pm. *Players must be 18 or older. ID required. Bring your own equipment and helmet.
Rates
$10 per visit
Figure Skating & Hockey
Our figure skating and hockey programs are known as one of the finest in the Chicagoland area. Click here for more information on Hockey. For more information on figure skating click here.
Skating Special Events
Hoffman Estates Park District offers many fun and exciting skating special events. Skating Events held throughout the year: Ice Show, Egg Slide, Great Pumpkin Skate, Skate with Santa and many more!
Triphahn Center is now on Live Barn
Watch your hockey player live using the Live Barn service. This subscription service lets you watch and even share video clips from games and practices. Use code FFD6-ACCA for 10% off your monthly subscription.