Advertising & Sponsorship Opportunities
The Hoffman Estates Park District partners with local area businesses, offering the opportunity to introduce their products and services to the community and associate their brands with a most respected and loved community organization. For information, contact Jeff Ney at 847-285-5477.
Why Align Your Brand With the Park District?
Giving Back to the Community
Through the variety of marketing channels we use, we are able to reach our market through multiple communication touch points, increasing recall.
Our events and programs are popular and highly anticipated.
Market Penetration
We reach all resident households with direct mail, special events, well-attended programs and widely used facilities; the Hoffman Estates Park District reaches residents in Hoffman Estates, Schaumburg, Elgin, Palatine and South Barrington. The Hoffman Estates Park District offers a wide variety of cost-effective marketing opportunities for all businesses.
Cost-Effectiveness
When you market your business through the Hoffman Estates Park District, we present your business as one that is giving back to the community, rather than as just a business that is advertising. This provides businesses that partner with the Park District with a positive image within
the community, which advertisements in other media cannot do.
Perception In The Community
Offering healthy and enjoyable experiences to residents and guests by providing first class parks, facilities, programs, and services in an environmentally and fiscally responsible manner.
Where Can You Advertise?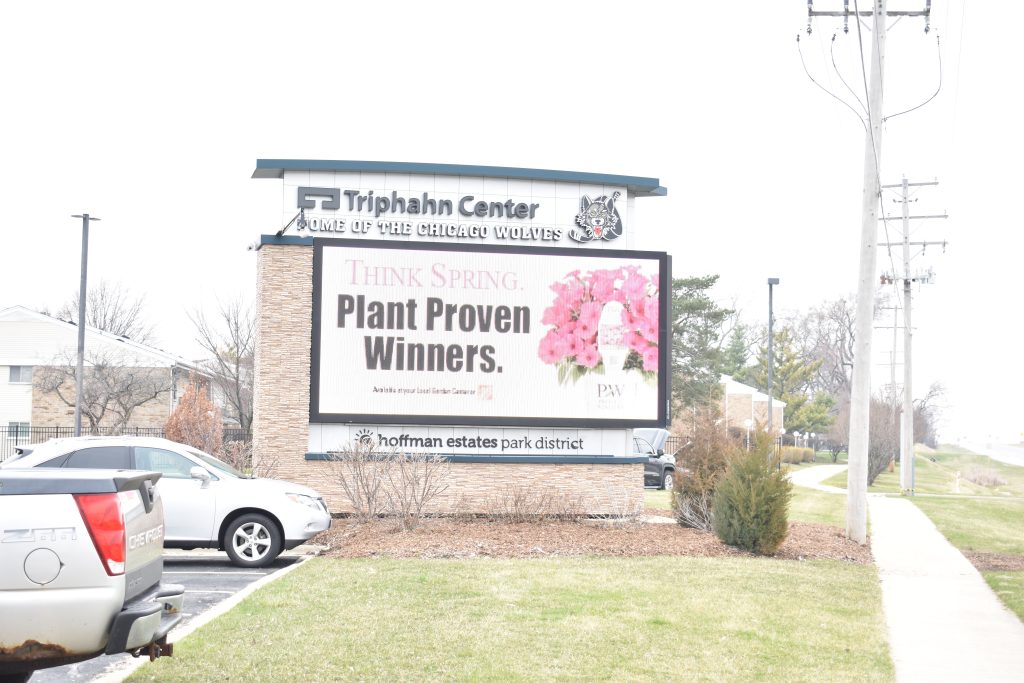 Signage
The Hoffman Estates Park District offers businesses the opportunity for advertising within a variety of Park District facilities, as well as its two large format digital jumbo screens, 10'x20′ on high traffic streets: Triphahn Center (Higgins Road), Vogelei Park (Higgins and Golf Roads). Primary Space as well as shared space options available.
Quarterly Program Guide The Hoffman Estates Park District seasonal program guide is available online. The online program guide is the most frequently visited webpage – behind only the home page. The page layout places your ads directly adjacent to your target audiences. Since they are built into the page they are not blocked by ad blockers. HEParks averages around 130k page views per quarter.

Special Events
The Hoffman Estates Park District hosts special events throughout the year. These popular events give your business one-on-one contact with future customers. Below are just a few:
• Skating Events
• Egg Hunts
• Craft Fair
• Friday Fun in the Park
• Live Music Events
• Seascape Events
• Halloween Bash
• Haunted Hoffman Family Fest
• Winter Fest
• Breakfast with Santa
• Golf Events

Online Web Presence
In addition to the quarterly Program Guide, the Park District's website offers online registration, as well as being the central source for almost all information the Park District provides.
Active Social Media Presence
HEParks maintains 13 different social media accounts across Facebook, Instagram, and Linked In. When you sponsor an event or program your business is mentioned within applicable social media content. The park district's social media platforms reach over 200k social media users per month on average.
Foundation Events
The Friends of HE Parks provides a unique opportunity to sponsor events, purchase a Giving Tree leaf and much more. Learn more here.
Become a Event or Park District Sponsor
We offer sponsorship of events and facilities as well as various advertising options in and around the Park District. Whether it is providing in-kind or food donations, raffle prizes, or monetary sponsorships, we'll help you find the best fit for your business. We serve everyone from children to seniors so we are confident that we will have a sponsorship opportunity that is right for you.
For information, contact Jeff Ney at 847-285-5477.
Community Visibility:
56,690 HE Parks Residents
200k+ Website page hits annually
30,000 Rounds of golf played
6,000 Special Event participants
23,000+ Active Email accounts
7,000+ Followers on Social Media
Partner Opportunities
Facility Sponsorship
Event/Program Sponsorship
Family, Community, and Canine events
Adult and Youth program sponsorship opportunities
Sports Leagues
In-Kind donations
Golf Packages
50+ Club events
Friends of HE Parks Foundation Sponsors
LSC/ Preschool/Camp Sponsorship