Best of Hoffman
Each month the Hoffman Estates Park District staff and commissioners review the district's volunteers and participants, searching for men, women and children who best exemplify the interests of the park district. These people are then recognized as the Best of Hoffman at a Park Board meeting and presented with a Board proclamation. We are lucky and honored to be affiliated with these individuals. If you would like to nominate someone for this award, contact Jane Kaczmarek at 847-781-3633.
Interested in volunteering? We'd love to have you! Read more here.
Best of the Best 2016: Eagle Scouts Niko Soriano & Brett Bertok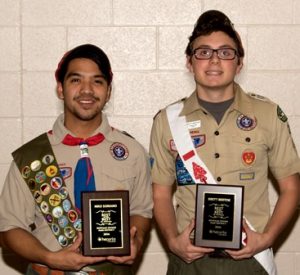 In the early spring of 2015 the Park District was approached by Niko Soriano and Brett Bertok about the possibility of completing their Eagle Scout projects at the HE Parks.
Both Niko and Brett are very passionate about outdoor recreation and the opportunity to provide something positive to the community. They decided to build a portable archery range!
They started to visit numerous sites, researching various types of beginning courses. They developed a relationship with a Forest Preserve mentor to help with the design of the range. Then they worked on various fundraising ideas to make this project become reality.
Finally when they gave their update at the Recreation Committee meeting in September, they surprised everyone by making a donation of $600 to the Friends of HE Parks. This was the money that was left over from their fundraising efforts for the project.
The park district will start programming the new archery range in the Spring of 2017. We thank Niko and Brett for their hard work, dedication and support for the new archery range that they have brought to the community and also for their generous donation to the Friends of HE Parks.
February – Community Representatives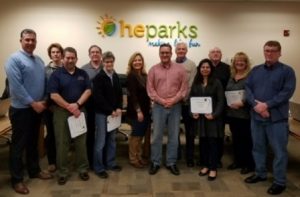 Community Representatives are not only very important to the Park District, but for the entire community as they provide feedback and insight on behalf of the residents of Hoffman Estates. The first committee meeting held each month is the Buildings & Grounds Committee. This committee presents recommendations to the Board that are consistent with the district's mission statement as it relates to the planning, construction, and maintenance of parks and park facilities.
Completing first year: Robert Neel
A rep since 2015, recieved a 2 year pin: Chad Bettencourt
A rep since 2011, received a 6 year pin: Marc Friedman
A rep since 2011, received a 6 year pin: Sue Triphahn
A rep since 2009, received an 8 year pin: Raffi Dekirmenjian
January – Redhawks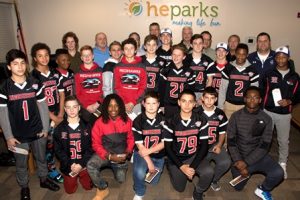 This month's Best of Hoffman recipients are the Junior Varsity Redhawks as well as the Junior Varsity Cheer Squad.
Junior Varsity Football: The 2016 Junior Varsity Redhawks entered the season as back to back national champions. They finished the season being undefeated again. The team ended the 2016 season by winning the Chicagoland Pop Warner state championship, Mid America regional championship and the 3rd national championship in a row making Pop Warner history. No team had ever won 3 titles in a row. The team competed the week on December 2nd in Orlando Florida and beat teams from Colorado, New Jersey and Florida to win the championship.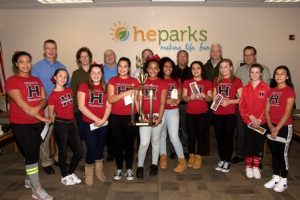 Junior Varsity Cheer: The Junior Varsity Cheer Squad entered the season defending 3rd place in the nation. They finished the season as a national champion runner-up placing 2nd at the national championship by just a few points. The team placed second in the Chicagoland Championship and Mid America Championship, then placed 2nd in Orlando, Florida in a bracket of 16 other teams from around the country. This is the highest a Hoffman Estates team has ever placed for cheer.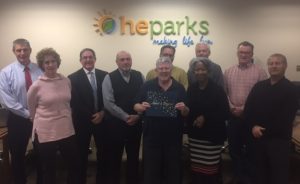 This month's Best of Hoffman recipients are 50+ members that Rica can always count on to lend a helping hand. With the construction of the north side of the Triphahn Center which includes the 50+ Center, there was much packing that needed to be done. The packing included hundreds of books from our lending center, seasonal supplies, wall hangings, and a variety of kitchen and other sundry items. Not to mention Rica's office, along with many, many files. All of the Best of Hoffman recipients showed up 2 or more days that week to help Rica pack up the 50+ Center. Congratulations and thank you to:
Ted Culligan
Russ Duke
Lydia & Glen Hoffmeyer
Tabby and Tanvir Khan
Jose McCue
Hap and Jan Wittkamp
November 2016 – Jerry Loch
Jerry Loch started with the Park District as a parent coach with his daughter Nicole in our youth soccer program. Jerry really enjoyed being around our program and soccer program that he decided to become a "patched" Official and work for HE Parks youth soccer league. Today Jerry is a "jack of all trades" for our Athletic Department. Jerry has worked as a Site Supervisor for our Adult Football and Softball leagues. He is also a score keeper for adult basketball and a referee coordinator for our inter-village soccer league. This past fall, Jerry took over a lot of responsibilities for our inter-village league. He helped train and coordinate the schedules and he helped Athletic Manager Kyle Thomas run the league.