Best of Hoffman
Each month the Hoffman Estates Park District staff and commissioners review the district's volunteers and participants, searching for men, women, and children who best exemplify the interests of the park district. These people are then recognized as the Best of Hoffman at a Park Board meeting and presented with a Board proclamation. We are lucky and honored to be affiliated with these individuals. If you would like to nominate someone for this award, contact Monica Logan at 847-781-3633.
Interested in volunteering? We'd love to have you! Read more here.
December 2019 – Sue Neel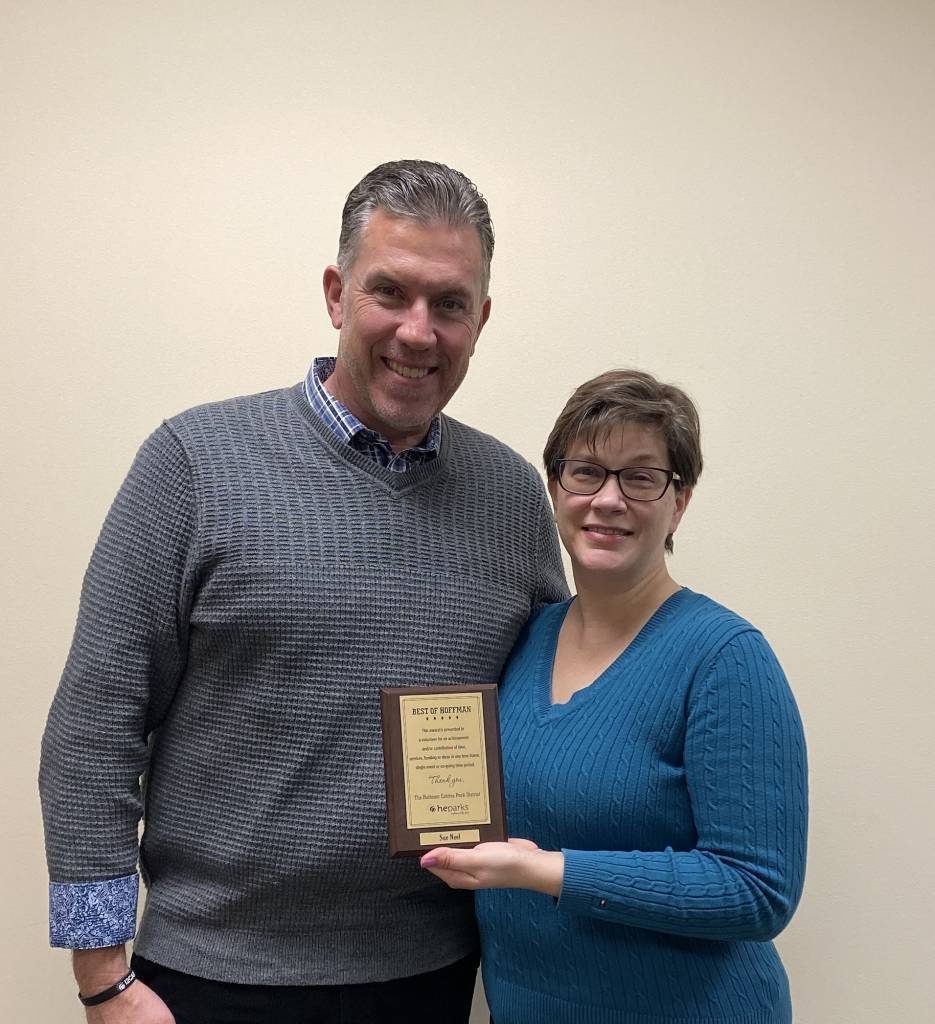 Hoffman Estates Park District would like to recognize Sue Neel as December's Best of Hoffman.

Sue served as a Community Representative with the Recreation Committee for seven years starting in 2012. In addition, her footprint was left within the community of Hoffman Estates, thanks to her involvement with the local Scouts program. As a Scout Leader, she was involved in a number of projects with the District. She and her Scout troop helped with the trailer painting project at the parks maintenance building; assisted with clean-up at Vogelei Park; planted a garden at Vogelei Park, and helped with the seed project at Charlemagne Park.
Sue and her family have relocated to warmer weather in the "Grand Canyon State", Arizona. We are grateful for everything Sue has done for HEParks and the Hoffman Estates Community.
November – none
October 2019 – Mary Ellen Summerville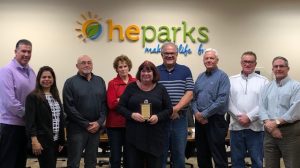 October's Best of Hoffman recipient is Mary Ellen Summerville.
Mary Ellen began volunteering for HEParks in March of 2019 and quickly became a staple at park district events. With her enthusiast smiles and laughter, she quickly became a favorite of both patrons and staff. In the past few months, she's been spotted working children's games at National Kids to Parks Day, helping at HEParks craft tables during summer events, and giving her all at the doggie carnival.
A life-long volunteer, Mary Ellen, says that her favorite things about volunteering are working with people and all of the smiles she receives at events. So far, her favorite HEParks special events have been National Kids to Parks Day and the Doggie Carnival.
A resident of Hoffman Estates, Mary Ellen considers volunteering to be her favorite hobby. She says yes every time the park district needs her to volunteer.
When asked about her favorite volunteering memory she said, "my son used to tell me all the time when he was little, 'Mommy do you know that if you got paid every time you volunteered; we would be rich'". She said the response to her son was "Volunteering does make me rich… in the heart."
Thank you, Mary Ellen, for everything you do for HEParks.
September 2019 – Twirling Twisters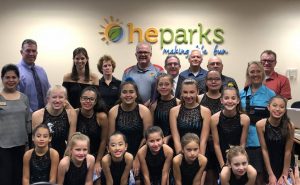 The Twirling Twisters were started in 1989 by Stephanie Felber and have been competing at local, state and national levels ever since.
With the awesome coaching by Stephanie Felber and Jaclynn Avner, the Twirling Twisters won State in July, and then competed at the America's Youth on Parade Baton Twirling Competition held at Notre Dame University in South Bend, Indiana. They competed against twirlers from all over the country and won the Juvenile Corps with Props division, becoming national champions!
The team also placed in 11 of 15 other team events and many girls placed in their individual events too.
Congratulations to the Twirling Twisters for your first place win at at Notre Dame. We are very proud of each of you: Maggie, Karolina, Delaney, Lilly, Jennelle, Anna, Lilly, Vynessa, Kristina, Emily, Taylor, Samantha, Lilly, Addison, Regan, Coach Stephanie and Asst. Coach Jaclynn! This was a tremendous accomplishment.
August 2019 – Coach Mallory Whalen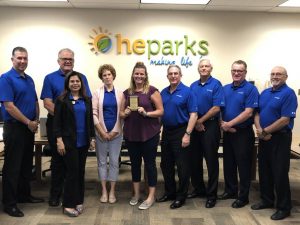 Over the past six years, Coach Mallory has served the community as a head soccer coach for 1st through 6th graders. Season after season, Mallory has been a great example of what we look for in a volunteer coach.
By becoming a coach, you have chosen to work with young athletes. You have chosen to guide them through the trials and tribulations of learning TWO games: Sports and Life. You are in a position to change their lives forever, not only by making them better athletes, but better people. You are a leader, you are a role model, you are a person who serves your athletes, and you are a person to whom they entrust their physical and emotional well-being.
Enthusiastic, caring and fair are just a few words to describe Mallory. Mallory is yet another soccer coach whose players are constantly asking to be on her team. Whether they are winning or losing, they are always having a great time on the field. Many times Mallory has coached multiple teams in the same season. Her dedication to the kids and the teams is something really special.
July 2019 – Coach Angela & Cory Wallace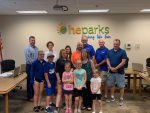 This month's Best of Hoffman award is being presented to TWO people —Soccer Coaches Angela and Cory Wallace.
Over the past decade, they have served the community as Soccer coaches and Wolf Pack coaches. Each Season our Athletic Department is flooded with requests from families to be on the team the Wallace's are coaching. Their enthusiasm for coaching is evident in the way they put players first by providing everyone with equal opportunity play and invoke positive teamwork and sportsmanship between families.
June 2019 – Cub Scouts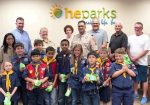 Pack 297 consists of 63 Cub Scouts and their families. Over the past months these young leaders of tomorrow have completed a variety of projects.
This month we're recognizing the Bears, Tigers and Wolves. This group completed the seed collection event last fall, collecting seeds from native species at Charlemagne. This spring they took those collected seeds and converted them into seed bombs by combining seeds with clay and throwing the seed/clay ball into the native areas at Charlemagne.
This process is important to the district to continue to beautify our shorelines and there is no better way than using species that are already in the shoreline. So thank you very much to each of you!\
May 2019 – Cub Scouts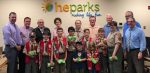 Pack 297 consists of 63 Cub Scouts and their families. We have scouts from several schools in our area including, MacArthur International Spanish Academy, Winston Churchill Elementary, Armstrong Elementary, Timber Trails Elementary, and John Muir Literacy Academy. Pack 297 was first chartered in 1967 and has provided the Cub Scouting program to hundreds of youth in Hoffman Estates.
Over the past months these young leaders of tomorrow have completed a variety of projects. The Lions and Webelos have directly completed a trailer painting project at the parks maintenance building where they were learning about preventative maintenance. This group then completed our first community garden at Vogelei, where the produce will be donated to local food shelfs. We cannot thank them enough for their exemplary contribution to the community and look forward to many more programs together.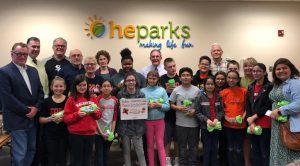 April 2019
The Environmental Club from MacArthur School has made a positive impact in our community and epitomizes The Best of Hoffman. This past fall, they reached out to the park district about the possibility of teaming together to build a butterfly garden outside of their school to help protect the Monarch Butterfly species. The park district was excited to work with the Environmental Club and advocate for positive change within the local environment. After discussion, it was agreed that the butterfly garden would be located on the west side of MacArthur School, just north of the playground. The Environmental Club jumped into action and began planting fescue seeds, pollinator plants and butterfly weed. The students also designed the sign that will be placed at the butterfly garden.
March 2019 – Redhawk's Junior Varsity Cheer Squad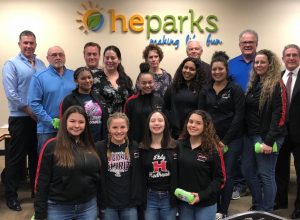 The The Hoffman Redhawk's Junior Varsity Cheer Squad are no strangers when it comes to receiving the Best of Hoffman award! In 2016, The Junior Varsity Cheer Squad finished the season as a National Champion runner-up placing 2nd at the National championship. The Junior Varsity Cheer Squad had a couple of fantastic seasons once again. After placing 3rd in the Chicagoland conference, they came back to win 1st PLACE at the Regional competition, qualifying them for Pop Warner Nationals in Disney World. They defended their title and brought home a BACK TO BACK 1st PLACE CHAMPIONSHIP for first time in Hoffman Redhawk's history. We are very proud of their accomplishments.
February 2019 – Coach Benji Gallardo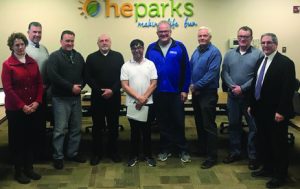 Coach Benji Gallardo has been a dedicated coach for HE Parks since 2015. Coach Benji has coached the in-house basketball league at HE Parks for both the Winter and Summer leagues where his two sons have played throughout the years. Coach Benji has a great rapport with the kids, using a unique combination of quality knowledge of the game, coupled with a goal to make sure all the kids are having fun. Coach Benji has also been voted on by his peers to represent teams in the annual in-house all-star games. You will see Coach Benji do most of his coaching calmly from the bench, but when the excitement of the game inspires him, you will hear Benji encouraging the team to "shoot it!", especially if there is a 3-point potential!

Best of the Best 2018: Craig Hartman
Back in November, our Best of Hoffman recipient was Craig Hartman. It is our pleasure to announce that Craig has been named the BEST OF THE BEST OF HOFFMAN 2018!Craig was chosen from all 2018 Best of Hoffman recipients to receive this honor.
In August, Craig Hartman, an owner of Bar Down Sports Grill hosted a fantastic Wolf Pack, Coyote, Wolverine fundraiser at his Hoffman Estates establishment. To add to the excitement, his son Ryan, (former Blackhawk, now Nashville Predator) attended the fundraiser to meet and greet the crowd that attended.
Through various fundraising events, $550 was raised in which Craig matched the amount to donate a total of $1,100 to the house and travel hockey programs. Since the beginning of the season, various HE Parks' teams and their families have made Craig's sports grill an after-event destination and have enjoyed excellent food and service from Craig and his staff. Craig provides a great opportunity for our hockey players to play shinny hockey or partake in bowling which allows the adults to relax and get to know each other while the kids have a great time with their friends. So once again, we would like to thank Craig for making such an impact in the lives of our hockey members.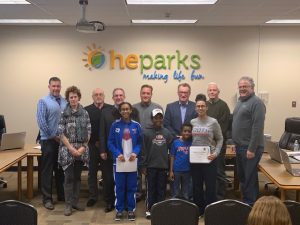 December 2018- Ed and Dalia Holmes
This month's Best of Hoffman recipients are Ed (not pictured) and Dalia Holmes. The Holmes family has been a staple in Hoffman Estates Park District Youth Sport Leagues since 2013.
Throughout the year, you will see Ed and Dalia coaching multiple teams for our youth baseball and youth basketball leagues on both the girls and boys sides. When players register with HE Parks at the front desk, there are countless requests for Ed or Dalia to be the head coach for their sons or daughter for the upcoming season.
Ed and Dalia have also helped grow our athletic programs through camps and events. This past spring Ed and Dalia helped run the USA basketball open court program that allowed residents to come in and play basketball in a controlled environment for free.
You can also see Ed and Dalia at all of our All-Star game events. Not because they volunteer, but because their peers always voted them to represent their players in the game.
This past basketball season Ed and Dalia have taken on a much larger volunteer role in running our girls feeder basketball program. On top of coaching a team, they also help schedule practice space, find tournaments/leagues for the girls to play in and work closely with the high school coaches on the philosophies of the program. Without Ed and Dalia our youth athletics would not be where they are today.
November 2018 – Craig Hartman
On August 29, Craig Hartman, partner with the Bar Down Sports Grill hosted a fantastic Wolf Pack, Coyote, Wolverine fundraiser at his Hoffman Estates establishment. To add to the excitement, his son Ryan, (former Blackhawk, now Nashville Predator) attended the fundraiser to meet and greet the crowd that attended.
Through various fundraising events, $550 was raised in which Craig matched the amount to donate a total of $1,100 to the house and travel hockey programs.
Since the beginning of the season, various HE Parks' teams and their families have made Craig's sports grill an after-event destination and have enjoyed excellent food and service from Craig and his staff. Craig provides a great opportunity for our hockey players to play shinny hockey or partake in bowling which allows the adults to relax and get to know each other while the kids have a great time with their friends.
We would like to thank you Craig for taking such a positive interest in adding great value to our members' hockey experience.
October 2018 – Officer John Bending
Officer Bending serves on the Hoffman Estates Police Department. For the park district, he has volunteered his time to help as a presenter and educator for the children and staff in our child care programs. When he visits our preschoolers in the Early Learning and Care Program, he reads them a book and gets down on their level to make them feel comfortable. Sometimes he has let the children check out his squad car. Officer Bending has also visited our STAR Before and After School Care program to address topics such as bullying and personal safety. Over the summer he visited our Teen Camps to address some tough topics in a fun way. He has also available to answer questions for our staff; he is always just an email away.
September – none
August 2018 – Chris "Alexander" Blackshear
Eagle Scout is the highest achievement or rank attainable in the Boy Scouting program of the Boy Scouts of America. The designation Eagle Scout was founded over one hundred years ago. Only four percent of Boy Scouts are granted this rank after a lengthy review process. The requirements necessary to achieve this rank take years to fulfill. Requirements include earning at least 21 merit badges. The Eagle Scout must demonstrate Scout Spirit, an ideal attitude based upon the Scout Oath and Law, service, and leadership. This includes an extensive service project that the Scout plans, organizes, leads, and manages. We are proud to recognize Eagle Scout Chris "Alexander" Blackshear as one of this month's Best of Hoffman recipients. Alexander was instrumental in the creation of our Chino Park community gardens, which provides gardening opportunities for those residents who do not have the resources to plant a garden. Thanks to Alexander's hard work and dedication, our community garden at Chino Park is up and running with 16 garden plots with a wood chip path between each of the plots plus four additional ADA accessible plots.
August 2018 – Coach Matt Schultz
This month's Best of Hoffman recipient, Matt Schultz, has been positively impacting our community for quite some time. Matt is a Hoffman resident and Volunteer Coach for both our Pinto and Mustang baseball leagues at the Hoffman Estates Park District. Matt began coaching for us three years ago and this season agreed to take on coaching a Mustang league in conjunction with his Pinto spring league in an effort to see both leagues play. His dedication to both teams and to the park district has been outstanding. His commitment, leadership, sportsmanship, and coaching has been much appreciated. He's always positive; never making any of his team players feel anything less than an important part of the team. He knows how to bring fun to the ball field, without making it too competitive and still teaching the fundamentals of baseball to his teams. When he's not coaching the kids on the field or at a game, he's created "baseball" fun by bringing his teams together for a baseball movie afternoon, fun at the batting cages or after game day ice cream at local ice cream venues.
July 2018 – Eagle Scout Xavier Vazquez
Back in the spring, the Park District was approached by Xavier Vazquez about the possibility of completing his Eagle Scout projects at HE Parks. It was decided that constructing a Monarch butterfly garden would be a valuable project to the environment and a great addition to our park district. Xavier's project will allow HE Parks to help in the efforts to save the Monarch butterfly. Xavier was responsible for fundraising as part of the project completion requirements. The garden is now complete and is located on the north end of Willow Recreation Center between the tot lot and the tennis courts.
June 2018 – Volunteers George Bedell and Larry Stone
George and Larry are members of our 50+ center and love to play volleyball. But they also donate their time to help out our foundation, the Friends of HE Parks, which is the charitable arm of the park district. George has volunteered for the Scott R. Triphahn Celebri-Tee Golf Outing for the past three years and Larry for the past two years. They make a terrific pair out on the golf hole selling raffle tickets for the event's fabulous prizes. In 2017 Friends of HE Parks volunteers sold $2,150 in raffle tickets on 4 holes. This year they sold $2,490 on just 3 holes with George and Larry selling more than 3,000 of those raffle tickets and raising over $1,000 on their hole #7. They definitely set a record!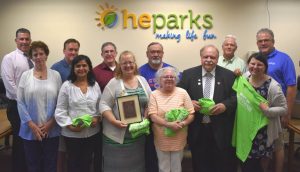 June 2018 – REALTORs of RE/MAX Suburban and the Mainstreet Organization of REALTORs
In the fall of 2016, the park district was approached by one of our Community Representatives Linda Dressler, who is also a local REALTOR at RE/MAX Suburban, regarding a community-based grant program established by the National Association of REALTORS.
The park district received a grant in the amount of $3,500 for the Chino Park garden plots from the National Association of Realtors.
To show our appreciation, a plaque will be installed, similar to this one, within community gardens at Chino Park acknowledging Linda Dressler and RE/MAX Suburban and the Mainstreet Organization of REALTORS for making these gardens a possibility within our community.
May 2018 – Hoffman Stars Dance Company
The Hoffman Stars Dance Company was formed in 2004. This program allowed dancers to take more classes at a time and enhance their dance skills in multiple forms of dance at a faster pace. In 2009 the company began competing in local park district competitions. They have since moved up to the intermediate level of dance in Regional competitions that take place all over the US. Under the direction of Kelsey Nebl, Laura Sue Jensen, Melissa Baxter and Shannan Pelayo, the dancers have participated in 4 competitions in Illinois and 1 in Wisconsin this year. They have received high awards in all of their competitions. The company members also perform at the annual dance recital, Winter Showcase, Winter Fest and have danced at the Chicago Wolves Game and Schaumburg Boomers. The dancers and teachers are looking forward to finishing out their 2018 season at this weekend's dance recital at Hoffman Estates High School. The teachers and dancers have worked extremely hard this year and are looking forward to a great recital and a nice break before the summer session begins.
April – none
March 2018 – Enid McEvilly
Enid McEvilly has been part of the Hoffman Estates Park District family for many years. Her kids have been enrolled in our Early Learning and Care (ELC) and school days off programs. Enid, a Dental Hygienist, began giving presentations on healthy dental habits for the kids in the ELC. She was happy to help out, and her programs were engaging and informative. So much so, that the teachers continue to request her presentations even though her own children are now in grade school. We truly appreciate Enid's willingness to use her own personal time to give these healthy tooth talks to our youngest students- which are valuable lessons that can last a lifetime. Thank you for volunteering your time to teach our kids how to keep their healthy smiles!
February 2018 – Royce Schwartz
Royce Schwartz began the 50+ Center's Pinterest Crafting Club. She leads the crafting club two times a month in various different crafting projects. There's been a lot of interest in this club and it continues to grow with her enthusiasm and passion for making crafts. Mindi and the group have come to really adore her and her talents. In addition to leading the 50+ Crafting Club, she also leads our new weekly 50+ Bunco group on Wednesday afternoons. Thank you, Royce!
January – none

Best of the Best 2017: Heather Kubinski
Heather was chosen from all 2017 Best of Hoffman recipients to receive this honor. Last year, when Heather was shopping at Jewel, she noticed on her receipt a contest to win a $500 Jewel gift card and a $20,000 grant to a local hockey rink of her choice. So, she entered the sweepstakes! Lucky for us, she chose the Hoffman Estates Park District's ice rink because her children used to ice skate here when they were younger.
A few months later, Heather received an email stating that she had won. She received her $500 Jewel gift card and HE Parks received a $20,000 grant for our Wolf Pack Hockey Development Program. The grant was used for new hockey equipment, teaching equipment for the hockey lessons program, assisting families with financial needs, and grassroots development in the game of hockey. Her act of kindness has made a difference in the lives of many hockey players and their families.