Best of Hoffman
Each month the Hoffman Estates Park District staff and commissioners review the district's volunteers and participants, searching for men, women and children who best exemplify the interests of the park district. These people are then recognized as the Best of Hoffman at a Park Board meeting and presented with a Board proclamation. We are lucky and honored to be affiliated with these individuals. If you would like to nominate someone for this award, contact Jane Kaczmarek at 847-781-3633.
Interested in volunteering? We'd love to have you! Read more here.
Best of the Best 2016: Eagle Scouts Niko Soriano & Brett Bertok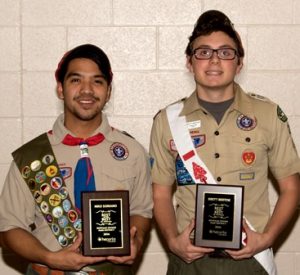 In the early spring of 2015 the Park District was approached by Niko Soriano and Brett Bertok about the possibility of completing their Eagle Scout projects at the HE Parks.
Both Niko and Brett are very passionate about outdoor recreation and the opportunity to provide something positive to the community. They decided to build a portable archery range!
They started to visit numerous sites, researching various types of beginning courses. They developed a relationship with a Forest Preserve mentor to help with the design of the range. Then they worked on various fundraising ideas to make this project become reality.
Finally when they gave their update at the Recreation Committee meeting in September, they surprised everyone by making a donation of $600 to the Friends of HE Parks. This was the money that was left over from their fundraising efforts for the project.
The park district will start programming the new archery range in the Spring of 2017. We thank Niko and Brett for their hard work, dedication and support for the new archery range that they have brought to the community and also for their generous donation to the Friends of HE Parks.
December – none
November – Katy Fong and Nina Mininni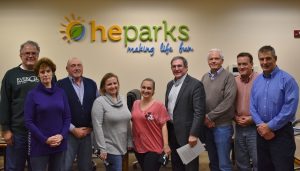 November's Best of Hoffman award goes to two very outstanding and selfless volunteers…Katy Fong and Nina Mininni! Katy, Nina and their families have been long time participants and contributors to our hockey program. Starting with doing the toughest job in youth sports, they are managers for the 3 to 4 times per week fall and spring seasons. As they became experts at running teams, realizing the tremendous challenge and learning curve for the job, they offered to become the managers' "manager" where they have created training manuals and guidelines for all the managers in our program. This huge undertaking involves preparing sanctioned rosters, communicating with all families, organizing jerseys and spirit wear, scheduling games and practices, and the list goes on. Katy and Nina have taken this to a new level by holding monthly meetings, special training and open lines of communication for all managers to go to for advice on the never ending issues that creep up. But they did not stop there….
They wanted every family and player in the program to love being in Wolf Pack and love being at the rink. And to have every way possible to engage in special spirit wear, creating numerous wonderful items, starting with their own investment, to them creating beginning of season parties and recently the tremendously successful Pink at the Rink weekend geared towards raising money for a family struggling through a major health situation.
They are now looking to set up a community volunteer program and reading program through the Blackhawks. They work hard to set up special events at Wolves and Hawks games. Nina and Katy ask nothing for the immense time (and cost) they selflessly put in…all for the sake of making park district hockey the best place for children to enjoy the great game of hockey.
October – Wolverines Girls Hockey Team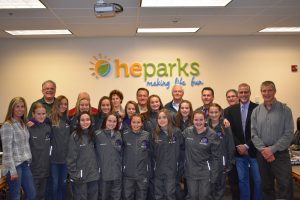 The majority of this U14 team joined together in the Spring of 2015 to form the Wolf Pack Hockey Club's all girls team, the Wolverines. Ranging in all different skating levels, the team proved that through team unity, hard work and commitment, you can rise to the top. The Wolverines went undefeated through the regular Spring 2015 season, placing 2nd in the North West Hockey League (NWHL) Squirt Championship. During the Fall season of 2015, the team secured 2nd place in the Squirt NWHL with an 8-2-2 record. In the Spring of 2016, the team won the NWHL Pee Wee Championship.
During the Fall of 2016, the Wolverines program expanded and they were able to form two teams playing in the NWHL. These girls, along with a few new ones, continued to play together and had an amazing regular season with a 9-2-1 record. The team also secured first place against the boys in the Chicago Thanksgiving Classic Tournament and first place in the Girls Irish Cup in South Bend!
In the Spring of 2017, the Wolverines program grew again and formed 3 teams. These girls, plus a few new faces, ended up playing on a Spring tournament team, while the other two teams continued playing in the NWHL. The tournament team took first place against the boys at the Chicago May Madness Tournament. They finished second place at the Dragon's Lair Tournament, losing by one point to a Wisconsin AAA girls' team.
The team finished off the Spring season with another first place win at the Rockford tournament. In the Fall of 2017, the Wolverines Girls team was able to secure a spot in the Northern Illinois Hockey League playing tier II hockey. The team started the seeding round 7-0 in the U14 division. As evidenced last week on myhockeyrankings.com, the Wolverines were # 1 in the nation for girls U14 tier II hockey. Today, the team remains #1 in the State of Illinois.
The team plays during both fall and spring hockey seasons, and unlike other programs, these girls have continued to train and work together all summer. Their dedication to becoming stronger individuals and better players is shown through their commitment to not only the sport, but also to each other.
September – Al Skwira
Al is such a fantastic volunteer, that this is his second time being awarded Best of Hoffman. Last year, he and his wife Judy were honored for the sweets they pick up from a local bakery and deliver every week to the 50+ Center patrons. Well this year, Al has stepped up again. He is a billiards guru and has been crucial in guiding the 50+ Center on their game room needs throughout the entire transition to the new north side. Early in the planning stages, Al counseled the 50+ staff on the quality and types of pool tables needed, furniture, and other amenities. He recently helped get the new pool tables repaired. The tables had an unusual amount of wear and tear on the felt and rails for only being in use for 3 months. He negotiated with the company and they agreed to replace both the felt and rails at no charge. Because of Al's efforts, the 50+ Club was able to save quite a bit of money. Thank you Al!
August – Bob Pearson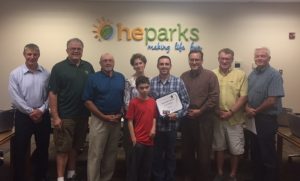 Bob Pearson has been a great addition to the baseball program when he started coaching his son's baseball team 5 seasons ago. He has coached for the park district at the Shetland, Pinto and Mustang levels. This past season Bob was voted by his peers to be the Head Coach for the 2017 Mustang All-Star team game against the Rolling Meadows All-stars.
Bob is truly dedicated to our program, no matter the season. This past winter Bob got HE Parks players together and hosted clinics in our gym during the cold winter months.
Bob's biggest contribution to our baseball program has been the growth of our tournament teams. Before Bob, our tournament teams would only practice 2-3 times in June and compete in 1-2 tournaments. This past season Bob's 10 & Under tournament team played in 5 tournaments and hosted several practices throughout the season. Bob's passion also led to HE Parks in creating a 9 & Under tournament team who competed in several tournaments. Bob helped mentor the coach. The success our tournament teams had this past season will now lead into an 8 & Under team, a 9 & Under team, a 10 & Under team and an 11 & Under team next season!
July – Kelly Ridley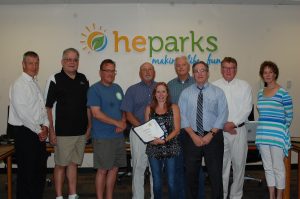 July''s Best of Hoffman recipient is Kelly Ridley. Kelly was nominated by the district's preschool staff. Kelly's children have been through our preschool program for the last several years. Her youngest daughter Delaney just finished our 4 year old program in May.
During Kelly's tenure as a preschool parent, she has generously donated her time in helping with fundraising for the program. Each month, Kelly would set up a "dining out" night at a local establishment, so families could choose to have a no-cook night and support the Hoffman Estates Preschool and Early Learning Center from a percentage of proceeds donated to the programs. Not only would Kelly coordinate the marketing piece needed to get the word out about the event, but she would also follow up on the success of the night and track the final details. She helped in other fundraising capacities as well, throughout her time as a preschool parent.
The preschool staff said that they are so lucky to have a dedicated, responsible parent like Kelly on their team. With her help and because of the fundraising dollars received, the preschool and ELC classrooms will now be up to date with technology as each room will be outfitted with a laptop computer, and teachers will have their own email addresses to better communicate with parents, which is something our surveys found parents requesting. Thank you Kelly for all the volunteer hours you've given to the preschool!
June – Heather Kubinski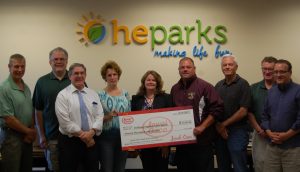 June's Best of Hoffman recipient our lucky star! Schaumburg resident Heather Kubinski randomly participates in sweepstakes, especially those where she can win sporting event tickets for her family of 5. A couple of months ago, when Heather was shopping at Jewel, she noticed on her receipt a contest to win a $500 Jewel gift card and a $20,000 grant to a local hockey rink of her choice. So, she entered the sweepstakes. Lucky for us, she chose the Hoffman Estates Park District's ice rink because her children used to ice skate here when they were younger.
Later Heather received an email stating that she won a $500 Jewel gift card and the Hoffman Estates Park District received a $20,000 grant for our Wolf Pack Hockey Development Program. The grant will be used for new hockey equipment, teaching equipment for the hockey lessons program, assisting families with financial needs and grassroots development in the game of hockey.
May – Gail Bronswick
The team at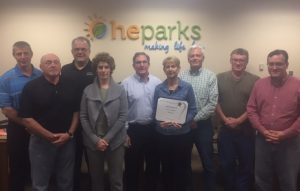 Prairie Stone Sports & Wellness Center proudly nominates Gail Bronswick for her extraordinary efforts to provide care for PSSWC's extensive indoor plant selection. Gail joined the PSSWC team as a volunteer in early February in response to the opportunity posted on the HE Parks' website. Gail's horticultural talents and amazing 'green thumb' was made clearly apparent following her first month of volunteering during which time she provided much needed care and attention to over 50 tropical and exotic indoor plants located throughout the club. After just a few visits during that initial month, the plants began to show signs of healthy vitality once again thanks to the watering, pruning, trimming, feeding, and overall care that Gail provided. Her efforts have been so positively impactful that members have begun to take notice of the plants once again, commenting on how beautiful and healthy they appear. PSSWC staff is truly grateful for Gail's continued efforts to care for their plants and appreciate each and every hour she devotes monthly to that purpose.
There were no nominees for April.
February & March – Community Representatives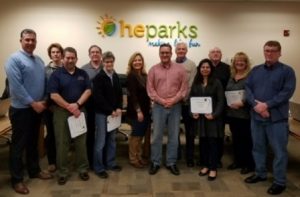 Community Representatives are not only very important to the Park District, but for the entire community as they provide feedback and insight on behalf of the residents of Hoffman Estates. The first committee meeting held each month is the Buildings & Grounds Committee. This committee presents recommendations to the Board that are consistent with the district's mission statement as it relates to the planning, construction, and maintenance of parks and park facilities.
Completing first year: Robert Neel
A rep since 2015, received a 2 year pin: Chad Bettencourt
A rep since 2011, received a 6 year pin: Marc Friedman
A rep since 2011, received a 6 year pin: Sue Triphahn
A rep since 2009, received an 8 year pin: Raffi Dekirmenjian
January – Redhawks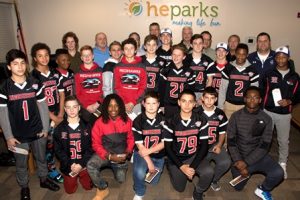 This month's Best of Hoffman recipients are the Junior Varsity Redhawks as well as the Junior Varsity Cheer Squad.
Junior Varsity Football: The 2016 Junior Varsity Redhawks entered the season as back to back national champions. They finished the season being undefeated again. The team ended the 2016 season by winning the Chicagoland Pop Warner state championship, Mid America regional championship and the 3rd national championship in a row making Pop Warner history. No team had ever won 3 titles in a row. The team competed the week on December 2nd in Orlando Florida and beat teams from Colorado, New Jersey and Florida to win the championship.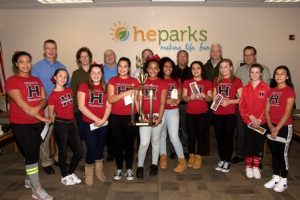 Junior Varsity Cheer: The Junior Varsity Cheer Squad entered the season defending 3rd place in the nation. They finished the season as a national champion runner-up placing 2nd at the national championship by just a few points. The team placed second in the Chicagoland Championship and Mid America Championship, then placed 2nd in Orlando, Florida in a bracket of 16 other teams from around the country. This is the highest a Hoffman Estates team has ever placed for cheer.