Fishing & Boating
---
Fishing Basics Class
In this class we will learn the basics of knot tying, casting, unhooking fish and baiting the hook. All equipment is provided, participants 6 and under must be accompanied by a parent or guardian.
Learn to Fish: Level 1/2
Each week we will target a different species of fish. Bluegill, Bass, Crappie, Catfish, Carp all while learning to use a spinning combo. Level 1 will focus on basic techniques and live bait to catch fish. Level 2 will be challenged to use artificial baits and will be taught new techniques. Everyone must be able to tie their own knots and unhook their own fish.
---
Pond Fishing
Hoffman Estates Park District offers fishing at 15 stocked ponds in Hoffman Estates. Our ponds contain a variety of fish including Largemouth Bass, Bluegill, Channel-Catfish and Northern Pike. We ask that you observe catch and release fishing practices in our lakes.

While you can catch fish at any of our ponds, you will have better success at Westbury Park, South Ridge Park, North Ridge Park, Chestnut Park, Highland Park, Black Bear Park and Whispering Lake Park.

Fishing licenses are required to fish in all HEParks lakes. You may purchase your license online from the state or a local store. Fishing licenses expire on March 31 of each year.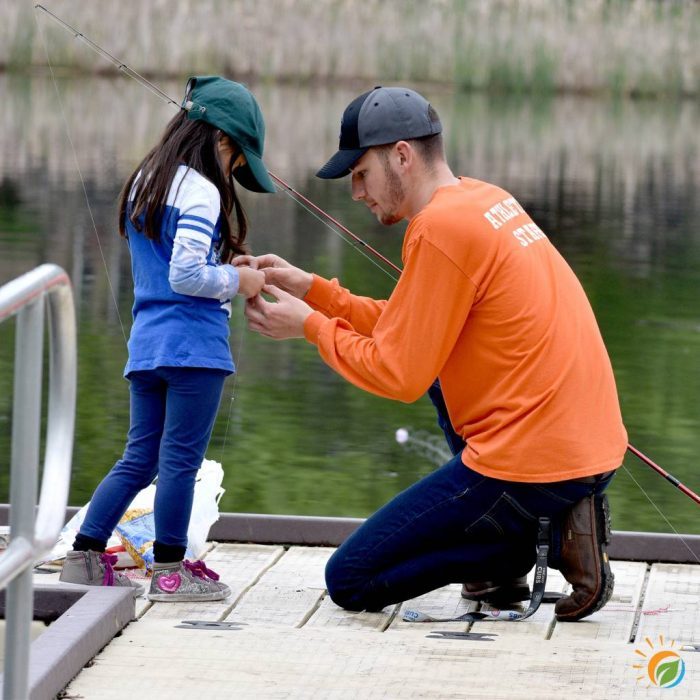 ---
Boating
The use of rowboats, canoes, stand up paddle boats, kayaks and small sailboats having a maximum length of 17 is permitted on park district lakes provided they display a valid district boating identification decal.
How do I obtain a boating identification decal?
Boating decals are obtained annually, January 1- December 31, from the Triphahn Center, 1685 W Higgins Road, Hoffman Estates. This registration is free of charge. The district requires all boats to be skippered by individuals at least 14 years of age or older.

Where can I use my watercraft?
After registering your craft, watercraft may be used on any lagoon, pond, or body of water controlled by Hoffman Estates Park District.

Can I use a powered motor?
Gasoline-powered motor-driven watercraft may not be used on lagoons, ponds or bodies of water controlled by Hoffman Estates Park District.
When can I boat?
Boating is only allowed on said lakes during daylight hours unless specifically authorized in writing by the Executive Director.
---

Questions? Program Manager: Kyle Goddard
HEParks Park Grounds: Matt Schiller