Sledding & Outdoor Skating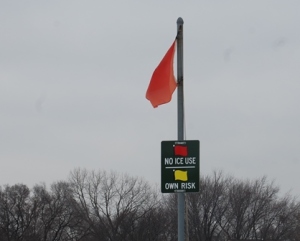 During the winter, ice skating and sledding are permitted in selected parks from sunrise to sunset, following an open/close flag system. Important: Supervisors are not on duty at any of the ice rinks or sled hills. If you observe individuals on the ice or sled hills when a red flag is flying or that does not have a flag system, please call 911 immediately.
Ice Skating Outdoors
Enjoy outdoor skating (weather permitting) at three parks where a flag system is used: South Ridge Park, Fabbrini (formerly Highpoint) Park and Evergreen Parks. Follow the following flag system to ensure safety. Ice skating is not permitted on lakes and ponds without a flag system or on lakes and ponds that are displaying a red flag. Ice must be a certain thickness before a yellow flag will be flown. Sometimes, despite cold temperatures, the ice does not freeze to the proper depth. please follow the flag system!
If the weather isn't suitable for outdoor skating, check our indoor Public Skate Schedule!
Sledding
Available at Pine Park and Seascape Family Aquatic Center (weather permitting).
FLAG SYSTEM:
A RED FLAG indicates weather conditions are unsafe. No skating or sledding is permitted. Ice must be at a specific thickness and condition in order to be safe for skating.
A YELLOW FLAG indicates skating and sledding are permitted but you must proceed with caution.
Ice Skating & Sledding Conditions (as of Feb 13, 2017)
SLED HILLS:
Seascape Sled Hill – 1300 Moon Lake Blvd – RED FLAG
Pine Park Sled Hill – 750 Charleston – RED FLAG
ICE SKATING PONDS:
South Ridge Park Pond – 1450 Freeman Road – RED FLAG
Fabbrini Park Pond – 1704 Glenlake Rd – RED FLAG
Evergreen Park Pond – 600 Washington Blvd – RED FLAG
Click here to see tips on dressing for cold weather.
Click here to see our Park Map.