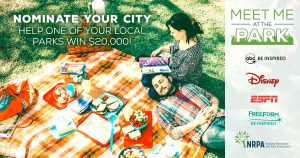 The city with the most nominations wins a grant for a local park through park improvement campaign.
This Earth Month, the National Recreation and Park Association (NRPA) is collaborating with The Walt Disney Company, including Disney Citizenship, Disney|ABC Television Group and ESPN, to revitalize parks across the U.S. for a third year. The city that receives the most nominations will receive a $20,000 grant to improve a local park.
You could win, too! When you nominate our city, you'll be entered into a contest to win a tablet outfitted for the outdoors. The city with the most nominations at the end of April will receive the funding.
Parks help make our lives better. They inspire healthy living, help protect the environment and bring people together. Support our local parks this Earth Month by visiting them and nominating our city to improve a lucky park! Visit NRPA.org/BeInspired