Park Improvement Projects
Each year brings many improvements to playgrounds and facilities throughout the district. Below you will find updates on all projects currently under way, including Triphahn Center North Side Enhancement and playground renovations at Sheffield, Victoria and Canterbury Park Place.
Triphahn Center – North Side Enhancement – View bid information here
North Side Enhancement Plan is progressing and is on schedule and within budget. Crews have been working on concrete footings, steel fabrication, masonry, pier column, and electrical rough-in on the ceiling and walls. In the Off-Ice Performance Center off-ice nets and wall padding are scheduled to be installed in February. Once the wall padding has been installed, the off-ice area will be considered 95% complete with the only remaining item to be the two wooden doors leading to the running track. (Feb. 6, 2017)
Fabbrini Park – Glen Lake Road construction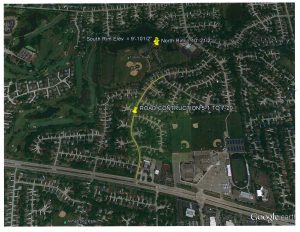 The Village of Hoffman Estates will be working on a section of Glen Lake Road from Higgins to Fabbrini Park from May 1 to July 20. Although the road will be open, park visitors may want to use an alternate route to access the park via the north and east entrances, or to access the main entrance to the park via the following route: Hassel Road to Glen Lake to the park.
Community Park Playground
Replacement equipment is in, will be installed before Spring.
Playground Renovations
All the district's playgrounds are on a rotation schedule, which results in new playground approximately every 15-18 years. Three playgrounds have been remodeled at Sheffield, Victoria and Canterbury Park Place Parks. In 2017 the district will remodel the playgrounds at Armstrong, Colony and Victoria parks.