Awards and Recognition
District Wide Awards
National Gold Medal Award for Excellence in Park & Recreation Management – 2009
National Gold Medal Finalist – 1989, 1990, 1991, 2007, 2008, 2009, 2022

The Gold Medal Award is the highest national award that a parks and recreation agency can receive, given by the American Academy for Park and Recreation Administration (AAPRA), in partnership with the National Recreation and Park Association (NRPA). With this honor, the Hoffman Estates Park District has demonstrated itself as the best parks and recreation agency in the country for a community with a population between 50,000 and 100,000.
The most prestigious award of its kind, the Gold Medal Award honors communities throughout the United States that demonstrate excellence in long-range planning, resource management, volunteerism, environmental stewardship, program development, professional development and agency recognition.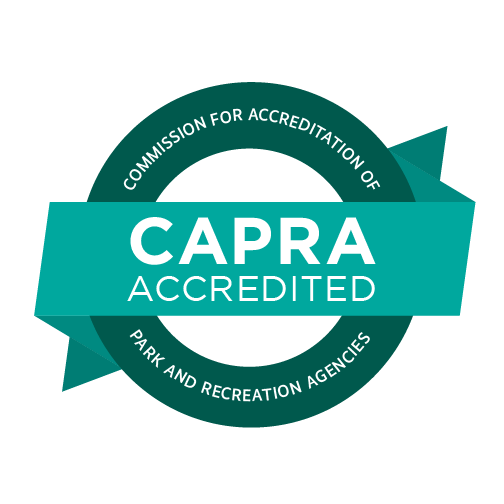 NRPA's Commission for Accreditation of Parks and Recreation Agencies – 2013-2017, 2018-2022
CAPRA accreditation is the only national accreditation for park and recreation agencies and is a measure of an agency's overall quality of operation, management and service to the community. This mark of distinction indicates that an agency has met rigorous standards related to the management and administration of lands, facilities, resources, programs, safety and services. What's more, HEParks is one of few park districts to achieve a score of 100% in all of the category standards and the first to submit all required documents completely electronically.
As part of the accreditation process, HEParks had to demonstrate compliance with 155 recognized standards and document all policies and procedures. Often the process helps identify efficiencies and heighten areas of accountability, all of which translate into higher quality service and operation to benefit the community.
Illinois Distinguished Park & Recreation Agency Award – 2000-2005, 2006-2011, 2011-2016, and 2017-2022
This accreditation is awarded to Park Districts by the Illinois Association of Park Districts and the Illinois Parks & Recreation Association. It is granted to those that work toward improving the quality of life for Illinois residents and to recognize those agencies that provide exceptional Park and Recreation services to their community through a voluntary, comprehensive, professional accreditation process.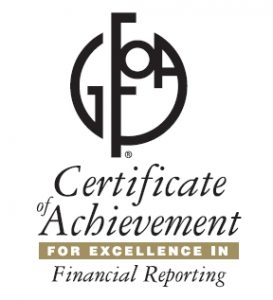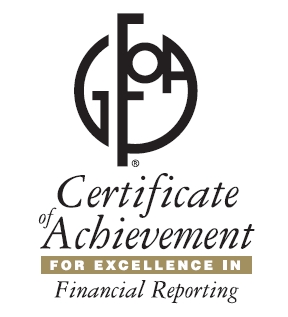 GFOA's Certificate of Achievement for Excellence in Financial Reporting – 2014, 2015, 2016, 2017, 2018, 2019, 2020
The Government Finance Officers Association (GFOA) of the U.S. and Canada has awarded the Hoffman Estates Park District (HE Parks) with a Certificate of Achievement for Excellence in Financial Reporting for its Comprehensive Annual Financial Report. The certificate is the highest form of recognition in the area of governmental accounting and financial reporting and represents a significant achievement by the HEParks and its management. In addition, an Award of Financial Reporting Achievement was granted to Craig Talsma, deputy director/director of finance, as the person primarily responsible for preparing the award-winning Comprehensive Annual Financial Report. Comprehensive Annual Financial Report recipients are determined by an impartial panel of GFOA representatives that selects organizations that meet the high standards of the program and demonstrate a constructive "spirit of full disclosure" to clearly communicate their financial stories. GFOA is a nonprofit professional association located in Chicago and Washington D.C. that serves 17,500 government finance professionals.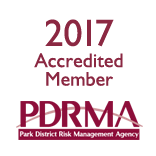 Park District Risk Management Agency – Loss Control Program, Excellence Level A 2010-2021
To achieve the PDRMA Accreditation, HEParks had a thorough review by PDRMA's Risk Management Consultants to evaluate, develop, maintain, and enhance risk-management best practices. The review includes a minimum of three visits to the member location over the course of the year.
Illinois Sports Turf Association – Field of the Year – Third Place 2020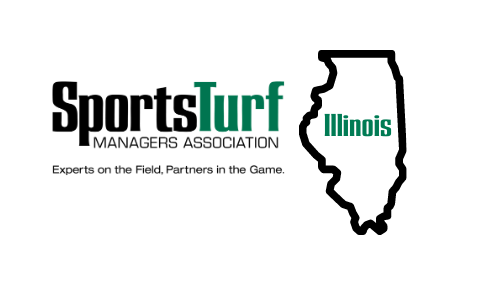 HEParks was awarded third place in this state-wide award given to a sports turf facility that is managed with a high degree of excellence. The Park Grounds department did an outstanding job keeping the baseball and softball fields in excellent condition on a low-maintenance program while the fields were not in use early in the year, preparing them for full use once sports began again.

IAPD Partnership Award 2021 – HEParks & Cabela's, Hoffman Estates
Cabela's, Hoffman Estates helped HEParks "hook our residents" on fishing by donating more than 120 gently used rods and reels. These donations enabled HEParks to remove most expenses associated with our fishing programs, as we loaned poles to every enrolled student in our fishing classes and derbies. Cabela's, and its parent company Bass Pro Shops, supports a nationwide movement dedicated to encouraging families to put down digital devices and head outside.
IAPD Intergovernmental Cooperation Award 2020 – HEParks, Village of Hoffman Estates, and Forest Preserves of Cook County.
Paving the way for residents to maintain their health and safety through intergovernmental cooperation. HEParks is proud to be recognized along with the Village of Hoffman Estates, and the Forest Preserves of Cook County for their work in creating a connection path linking east and west Hoffman Estates. This path is part of a Regional Priority Corridor running from Elgin to Evanston providing safe transportation trails for walkers and bikers to traverse Chicagoland for recreation, school, and work.
IAPD Best Friends of Illinois Parks 2018
HEParks is proud to congratulate its partner AMITA Health in winning the "Best Friend of Illinois Parks" award in the Large Business category from the Illinois Association of Park Districts (IAPD). The honor is awarded to a business or corporation that has demonstrated exemplary support to a local park district, forest preserve, conservation, recreation or special recreation agency. Awards are given for three subcategories, small (fewer than 100 employees), mid-sized (100 to 500 employees) and large business (more than 500 employees).
The park district nominated AMITA Health as the organization has been a generous contributor to HEParks for the past nine years.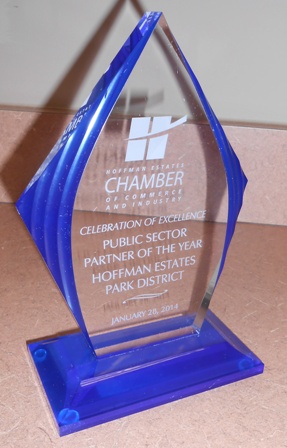 Hoffman Estates Chamber of Commerce Public Sector of the Year, 2013, 2015 & 2018
The park district won the distinction of Public Sector of the year in 2013 and 2015 from the HE Chamber of Commerce. The award is determined by a vote of chamber members.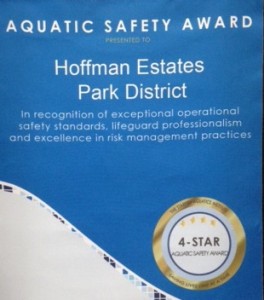 Starguard Aquatics Institute 2014, 2015, 2016, 2017, 2018, 2019, 2021
Seascape received the 4-Star Quality Award from Starguard Aquatics Institute. This Recognition is given to facilities exhibiting excellence in safety and lifeguard professionalism.

Arts in the Park 2017
The Helen Doria Arts in the Park Award is granted by the Illinois Art Alliance to park districts in Illinois that promote the arts in their communities. HE Parks won the award in part due to its joint partnership with the Hoffman Estates Arts Commission and the Village of Hoffman Estates, in which we offer the Summer Sounds on the Green and Friday Fun in the Park entertainment series.

Best Green Practices 2017 – Awarded by the IAPD to park districts that have taken the initiative to incorporate and encourage environmentally-friendly business practices and policies.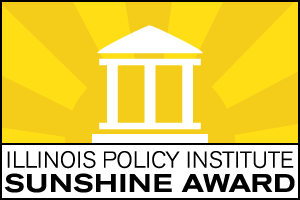 Illinois Sunshine Award, 2013-2014
The Hoffman Estates Park District received the "Illinois Sunshine Award" from the Illinois Policy Institute, a nonpartisan research organization, for its efforts toward online transparency and government openness. The Sunshine Award is granted to government organizations that score 80% or higher on the instituted 10-Point Transparency Checklist. Only 50 out of 7,000 governing bodies have won the award. For more information, visit the Illinois Policy Institute.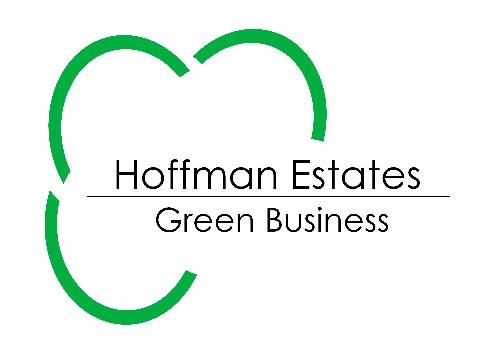 Village of Hoffman Estates Green Business 2013
The Hoffman Estates Green Business Recognition program is designed to assist local businesses to achieve their energy and environmental goals, to recognize businesses for their small and large "green" efforts, and to educate the community about opportunities and benefits of improving our economic sustainability.

Best of The Knot 2012-2019
The Knot Best of Weddings Hall of Fame
Bridges of Poplar Creek Country Club

2015, 2016, 2017 The Wedding Wire Couples' Choice Award
Bridges of Poplar Creek Country Club
Best Renovation by Golf Inc. 2012
Bridges of Poplar Creek Country Club
IAPD/IPRA Agency Showcase – Program Guide 2017
IAPD/IPRA Agency Showcase – Social Media – 2015
IAPD/IPRA Agency Showcase – Website – 2015
IAPD/IPRA Agency Showcase – Overall Agency Showcase – 2013
IAPD/IPRA Agency Showcase – Media Relations – 2013
IAPD/IPRA Agency Showcase – Logo – 2013
IAPD/IPRA Agency Showcase – Integrated Photography – 2013
IAPD License Plate Award – 2013
IAPD/IPRA Agency Showcase – Website Division C – 2005
Village of Hoffman Estates Proclamation – HE Parks Day – 2009
Village of Hoffman Estates Proclamation – Krolak Cup Day – 2013
Village of Hoffman Estates Proclamation – July Parks & Recreation Month – 2015, 2017, 2019
Village of Hoffman Estates Proclamation – National Kids to Parks Day – May 2019, 2020, 2021

Proclamations are issued for civic celebrations; organizations and individuals; significant events; and individuals who have made a significant contribution to Hoffman Estates.
Commissioner and Staff Awards
IAPD Master Level Board Member: Robert Kaplan, Pat McGinn, Keith Evans
IAPD Notable Level Board Member: Pat Kinnane