COVID-19 Updates
---
(Updated 08/30/2021)
State of Illinois Mask Mandate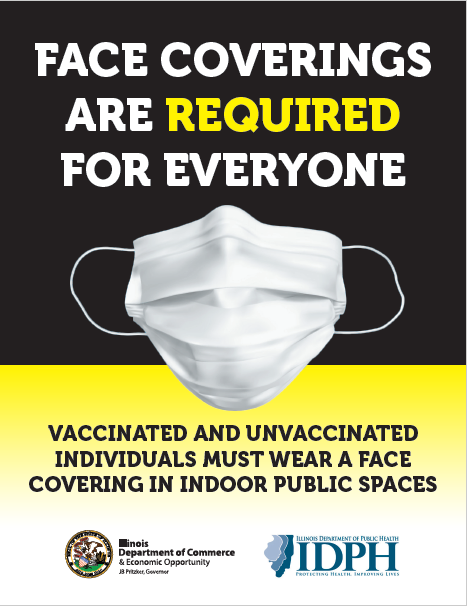 On August 26, 2021, Governor Pritzker has placed the entire state of Illinois under a mandatory mask mandate. This mandate requires ALL Illinois Residents over the age of 2 are Required to Wear Masks Indoors, Regardless of Vaccination Status beginning Monday, August 30th, 2021, for the indefinite future.
Thank you for your cooperation
Programs & Classes: Registration will open for fall programs opened on August 3. Programs including, group, private and virtual options. All staff, coaches and patrons are required to wear face coverings at all time.
Senior Center programs include drop-in activities and pre-registration special event activities and fitness classes.
Community Center Operations:
Triphahn Center: The facility is open 6:00a-9:00p, Monday-Friday, 6am-5pm on Saturday and 7am-5pm on Sunday.
Willow Recreation Center: The facility is open 7:00a-9:00p, Monday-Friday, Saturday and Sunday from 9:00a-1:30p.
Little Stars Childcare (full-day preschool & child care) is open at Triphahn Center
HEParks Preschool (part-day preschool) open at both Triphahn Center and Willow Recreation Center
Fitness Center Operations:
The Club at Prairie Stone Fitness Center All members are to wear masks at all times while within the facility. Saunas and hot tubs are open.
Triphahn Center Fitness Center: All members must wear masks at all times while indoors. Locker rooms are open. Members must swipe their membership cards to enter the locker rooms. Saunas and hot tub are open.
Willow Recreation Center: The fitness center and locker rooms are open. Face coverings must be worn at all times within the facility.
Group Fitness classes permitted at full capacity.
Open HEParks outdoor amenities
All outdoor parks, paths and courts are open.
Rentals and Facilities
Rentals are available at full capacity
Seascape Family Aquatic Center is operating at full capacity
Signs of Illness
Participants/staff will not be permitted into the facility if exhibiting COVID-19 symptoms.
If a participant shows illness symptoms, there will be a designated room at each facility for that participant to go until they can be picked up safely by a parent or guardian.
If a participant/staff has a confirmed case of COVID-19
The other program participants will be moved to another designated room in the building. The contaminated room will be quarantined and cleaned 24 hours after initial exposure. Programs can return to room upon following proper disinfecting procedures.
We will ask that the program participants to self-quarantine per CDC guidelines.
When a participant/staff can return to the facility if confirmed with COVID-19 Participants/Staff who is diagnosed to COVID-19 may not return until:
They have had no fever for 24 hours (without medicine)
AND
Other symptoms have improved
AND
At least 10 days have passed since date of positive test
When a participant/staff can return to the facility if exposed to someone who has been diagnosed with COVID-19. The participant/staff may return to the facility when:
If fully vaccinated: Immediately
If not fully vaccinated

at least 10 days have passed since the date of exposure.
or if tested on the 5th day after exposure, participants/staff can return on day 7 with a negative rest result.
If exposed participant/staff exposures results in a positive COVID-19 diagnosis, participant/staff must follow the guidelines above to return after diagnosis.
FAQ
Will you take patron's temperature before the start of the program each day?

No, but we do ask if your child or any family members show illness symptoms that you please stay home.

How will we be cleaning toys and materials?

All toys and materials will be fully sanitized before they are shared with the next participant by a bleach/water solution or our high-temp sanitizing dishwasher.

Will programs be going outside?

Weather permitting, yes, we will be going outside with programs that are able to do so.