January 2020 Best of Hoffman: Jay Garstecki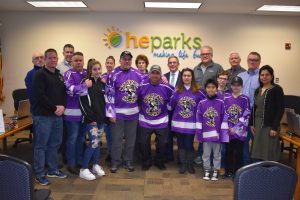 Hoffman Estates Park District would like to recognize Jay Garstecki as January's Best of Hoffman.
Jay and his family are members of the Wolfpack/Timberwolves hockey family. After hearing about the loss of one of the members of the hockey family, Jay felt he had to try to help in any way he could because, and I quote, "While our family didn't know her or her family, the Wolfpack/Timberwolves is our family. We are all 'hockey families'". Essentially, we support one another.
In honor and memory of Faith Hoberg, a 12-year-old hockey player with the Wolf Pack club whose life was tragically taken in a car accident, Jay purchased and donated 50 jerseys to the hockey program. Faith's entire Wolf Pack team was given a jersey, along with some of Faith's family members. The remaining jerseys are being raffled off and the money collected from each raffle ticket is going into a fund established by a large Hoberg family donation to provide an annual hockey scholarship in Faith's name. The jerseys will be awarded to the raffle ticket winners on February 8 at 3 pm. Faith's team will be wearing their purple jerseys at the 4 pm game on this date.
The Board of Commissioners for Hoffman Estates Park District is proud to award Jay Garstecki the January 2020 Best of Hoffman Award.