Parks Blog: Spring Cleanup and Repairs
With the weather warming up, the Parks team has been out getting all the parks, nature areas, ball fields and courts ready for spring. This is a long process that starts with playground inspections and cleanup, with the main priority being safety for guests. Unfortunately, sometimes we encounter incidents that cause a section of a park or playground to be closed for repairs and this year that was the case at Hoffman Park. A large hole was punched through one of the slides, causing that play feature to be closed until the new slide arrives. We apologize for the inconvenience to all the guest that use this park as the new slide is on order and as soon as it is in it will be replaced and open again for play.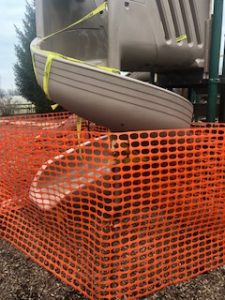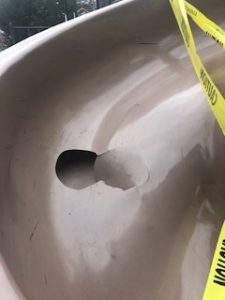 Once all playgrounds have been inspected, the staff install tennis and pickleball nets. We are happy to report that all tennis courts are open for play.
Baseball and softball fields require ongoing maintenance that will continue throughout the year. Our approach to soccer fields is completely related to weather as when they can be set up and open for play. Below you will find some key dates to park features as it relates to opening.
Lake fountains and bubbler startups – All installed by April 16
Drinking fountains – Turned on April 23
Restrooms – Opened on April 16
Splash Pads – Opened on May 1