Rentals & Parties
Indoor Rental
The gymnasium and meeting rooms may be rented at reasonable costs. We offer a variety of room sizes to accommodate your gathering. Features: tables and chairs, set-up and take-down. Alcohol is prohibited.
Large Meeting Room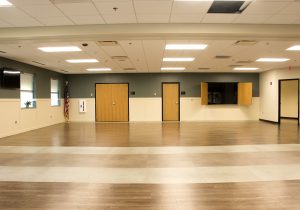 up to 45 people — $55 hour
Small Meeting Room
up to 25 people — $40 hour
Board Room (no food or drink)
up to 50 people — $55 hour
Dance/Aerobic Room (no food or drink)
up to 15 people — $55 hour
½ Gymnasium (no food or drink)
up to 150 people — $45 hour
Full Gymnasium (no food or drink)
up to 300 people — $80 hour
Facility Room Rental Information and Room Use Permit Form are available at the front desk of each facility. Please allow ten business days to process requests. *Application process applies to Triphahn Center and Willow.
To finalize room rentals, please be sure you take the following steps:
Complete information form, indicating the exact date and day of the week of your requested rental.
Return the form, signed and dated, to the facility where you intend to rent a room.
Attach a security deposit equal to 50% of the total rental fee with the completed rental form.
* There is an additional $250 for after hour rentals and rentals over 100 people. Additional fee of $25 per hour for after hour rentals.

Need a Caterer? Rent a party room for your event and cater through Garibaldi's. Catering Menu.