Parties & Rentals
Party Tent Rental
Our pool party includes 2 hours in our private tent area and admission for up to 20 guests.
$155 / $180, additional guests: $5/$6
Seascape Rentals 2019 usage form
Seascape BirthdayParty FAQ
Cabana Rental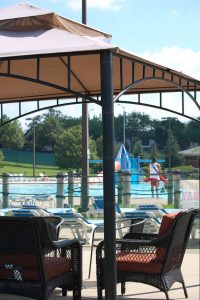 Rent one of our private cabanas for guaranteed shade and seating for 6 people. Perfect for a family day at the pool. Daily admission rates still apply.
$20/$25 (half day), $35/$40 (full day)
Seascape Rentals 2019 usage form
Full Facility Rental
Rent the entire facility for your next group outing. Seascape will provide the lifeguards. Catering packages are available at an additional cost. Rental times available: Daily 8:00-10:00pm. Contact Dru for details at Dru Steinhoff today at 847-285-5417.
Group Rate
Bring your group to enjoy a day of swimming and sunshine! Groups of 20 guests or more receive a special
$5/$6 per person
*All rentals and groups must be prearranged. Contact Dru Steinhoff today at 847-285-5417 to reserve your date. When you're ready to book, complete a Seascape Group 2019 usage form and return to Seascape or Dru Steinhoff along with 50% deposit.
Catering
Catering is available through Garibaldi's at the Seafare concessions. Catering Menu