Park Improvement Projects
Each year brings many improvements to playgrounds and facilities throughout the district.
Hoffman Park – the slide at this park was damaged. We have placed an order for a replacement part and will repair it as soon as the part arrives.
Community Park Splash Pad – Unfortunately, due to excessive flooding this spring, the splash pad at Community Park will be out of service for the remainder of the 2018 season.
Playground Renovations
All the district's playgrounds are on a rotation schedule, which results in new playground approximately every 15-18 years. In 2018 the park district will remodel the playgrounds at Armstrong and MacArthur Elementary Schools.
Drawing of the new playground at Armstrong: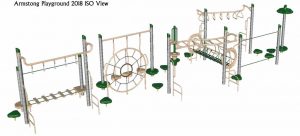 Drawing of the new playground being installed at McArthur: