Park Improvement Projects
Each year brings many improvements to playgrounds and facilities throughout the district. Below you will find updates on all projects currently under way, including Triphahn Center North Side Enhancement and playground renovations at Sheffield, Victoria and Canterbury Park Place.
Triphahn Center – North Side enhancement is complete and open to the public.
Fabbrini Park – Glen Lake Road construction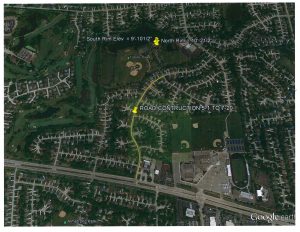 The Village of Hoffman Estates will be working on a section of Glen Lake Road from Higgins to Fabbrini Park from May 1 to July 20. Although the road will be open, park visitors may want to use an alternate route to access the park via the north and east entrances, or to access the main entrance to the park via the following route: Hassell Road to Glen Lake to the park.
Prairie Stone Sports & Wellness Center Locker Room Enhancement Project
The project begins July 10 and when completed, will provide many exciting enhancements for members. Read more here..
Triphahn Center Gym Floor Refinishing
The gym floor will be refinished next week and will be unavailable for use from Monday June 26-Wednesday June 28.
Playground Renovations
All the district's playgrounds are on a rotation schedule, which results in new playground approximately every 15-18 years. In 2017 the district remodeled the playgrounds at Victoria Park and the Seascape's water playground. Colony Playground: Due to the inclement wet spring weather, this project was held off given the fact that access to the playground was through a detention basin. The goal is to have the playground completed by early July.