Park Improvement Projects
Each year brings many improvements to playgrounds and facilities throughout the district. Below you will find updates on all projects currently under way, including Triphahn Center North Side Enhancement and playground renovations at Sheffield, Victoria and Canterbury Park Place.
Prairie Stone Sports & Wellness Center Locker Room Enhancement Project
The project partially opened on Sept. 30, some additional work is being completed and should be ready by Oct 14. The changes will provide many exciting enhancements for members. Read more here.
Playground Renovations
All the district's playgrounds are on a rotation schedule, which results in new playground approximately every 15-18 years. In 2017 the district remodeled the playgrounds at Colony, Victoria Park, and the Seascape's sand playground.
Colony Park – 5097 Kingston Dr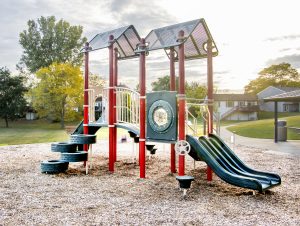 Victoria Park South Playground – (south side at Wainsford and Bode Rds)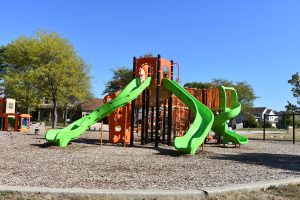 Seascape Sand Playground