Park Improvement Projects
Each year brings many improvements to playgrounds and facilities throughout the district. Below you will find updates on all projects currently under way, including Triphahn Center North Side Enhancement and playground renovations at Sheffield, Victoria and Canterbury Park Place.
Triphahn Center – North Side enhancement is complete and open to the public. Grand Re-Opening celebration is scheduled for June 24.
Fabbrini Park – Glen Lake Road construction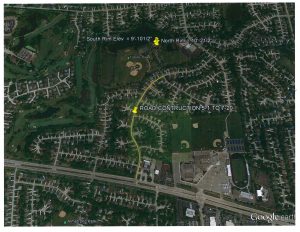 The Village of Hoffman Estates will be working on a section of Glen Lake Road from Higgins to Fabbrini Park from May 1 to July 20. Although the road will be open, park visitors may want to use an alternate route to access the park via the north and east entrances, or to access the main entrance to the park via the following route: Hassel Road to Glen Lake to the park.
Playground Renovations – update 4/25/17
All the district's playgrounds are on a rotation schedule, which results in new playground approximately every 15-18 years. In 2017 the district will remodel the playgrounds at Colony and Victoria parks. The Contractor has removed all the playground equipment and fall surface at Victoria South . The new playground equipment arrived Friday, April 21st and the playground installer began installing the equipment on the 23rd. Weather permitting the playground equipment should be installed by the end of the first week of May.
Seascape's water playground was removed and readied for the new equipment which will arrive on April 24th. The new water line service to the water play equipment was completed on April 20th and will be connected once the playground equipment is in place.