Pro-Am Scramble – Golf Event
October 10 @ 10:00 AM - 4:00 PM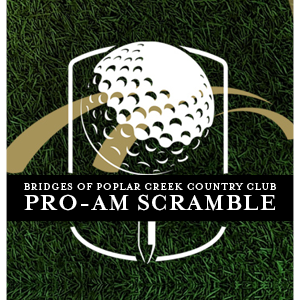 $500 Entry Fee Per Team – Format 4 Person Scramble – Event is limited to first 32 teams.
This 4 person scramble event will test the skills of every golfer. Each team may have one professional and three amateurs or four amateurs. Fee Includes 18 Holes with Cart, range balls and Lunch Ticket good for Hamburger, Hot Dog or Brat, Chips, and Drink. Optional Skins Game will be available day of the event.
10:00AM Shotgun
Prizes (Based on 32 Teams)
1st Place — $4.860
2nd Place — $2,420
3rd Place — $1,000
4th Place – $620
Teams playing without a professional golfer will receive their prize allocation in the form of Bridges of Poplar Creek Country Club gift certificates. Teams playing with a professional will receive half the allocation as a gift card and the other will be a check mailed to the Professional by 10/15/2021.
For questions concerning this tournament, please contact our Pro Shop at 847-781-3681. To purchase your ticket, begin by selecting the add to cart plus sign below. The full entry fee is due at time of registration.
Online Registration ends a 10/07/2021 at 5pm, however please contact the Pro Shop at 847-781-3682 to see if spaces are still available!