Best of Hoffman December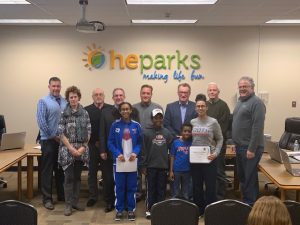 This month's Best of Hoffman recipients are Ed (not pictured) and Dalia Holmes. The Holmes family has been a staple in Hoffman Estates Park District Youth Sport Leagues since 2013.
Throughout the year, you will see Ed and Dalia coaching multiple teams for our youth baseball and youth basketball leagues on both the girls and boys sides. When players register with HE Parks at the front desk, there are countless requests for Ed or Dalia to be the head coach for their sons or daughter for the upcoming season.
Ed and Dalia have also helped grow our athletic programs through camps and events. This past spring Ed and Dalia helped run the USA basketball open court program that allowed residents to come in and play basketball in a controlled environment for free.
You can also see Ed and Dalia at all of our All-Star game events. Not because they volunteer, but because their peers always voted them to represent their players in the game.
This past basketball season Ed and Dalia have taken on a much larger volunteer role in running our girls feeder basketball program. On top of coaching a team, they also help schedule practice space, find tournaments/leagues for the girls to play in and work closely with the high school coaches on the philosophies of the program. Without Ed and Dalia our youth athletics would not be where they are today.