Best of Hoffman February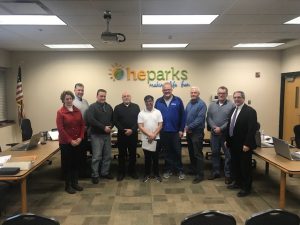 This month's Best of Hoffman recipient is Coach Benji Gallardo.
By becoming a coach, you have chosen to work with young athletes. You have chosen to guide them through the trials and tribulations of learning two beautiful games: sport and life. You are in a position to change their lives forever, not only by making them better athletes, but better people. You are a leader, you are a role model, you are a person who serves your athletes, and you are a person to whom they entrust their physical and emotional well-being.
Coach Benji Gallardo has been a dedicated coach for HE Parks since 2015. Coach Benji has coached the in-house basketball league at HE Parks for both the Winter and Summer leagues where his two sons have played throughout the years.
Coach Benji has a great rapport with the kids, using a unique combination of quality knowledge of the game, coupled with a goal to make sure all the kids are having fun.
Coach Benji has also been voted on by his peers to represent teams in the annual in-house all-star games. You will see Coach Benji do most of his coaching calmly from the bench, but when the excitement of the game inspires him, you will hear Benji encouraging the team to "shoot it!", especially if there is a 3-point potential!
On behalf of the Hoffman Estates Park District, the team and the parents, please come up and accept our Best of Hoffman award along with a $25 gift card to use towards any program or service that the park district has to offer. Thank you, Coach Benji!