Zumba Gold Offers Fun and Fitness for 50+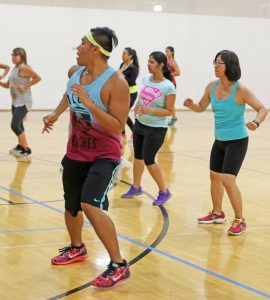 HE Parks offers the Zumba Gold fitness class, specially designed for people age 50 and better. It is a fusion of Latin and international, high-energy dance music with unique moves and to create an innovative, fun workout that is lower intensity than traditional Zumba. Zumba Gold focuses on elements of cardiovascular, muscular conditioning, flexibility, and balance.
The class is held at the Triphahn Center (1685 W. Higgins Road) on Tuesdays from 5:30-6:30 p.m. and runs July 17 through August 21. The fee is $55 for residents and $60 for non-residents. Registration is available at a park district facility or online with program #235323-A.
Zumba Gold is just one of the many offerings for people age 50 and better. The park district has a newly renovated 50+ Active Adults Center and offers affordable memberships for about $5 per month. The 50+ Active Adults Center has a cozy lounge area with fireplace and sofas, which makes for a comfortable, quiet space for card games or conversation. Two large rooms separated by a movable wall that allows the space to be combined into a larger room with an adjacent kitchen. The game room offers pool tables, card tables, and pub tables thanks to funds generously donated by the Friends of HE Parks foundation.
For about $5 per month per person for residents, members get:
Coffee, tea, snacks
Expanded hours – available anytime the Triphahn Center is open, nights and weekends
Free drop-in activities include pickleball, volleyball and more
Free services and seminars
Discounted rates on trips and priority registration for all active members
Game Room with all new equipment: two billiard tables, gaming tables, pub tables, computer, dartboard
Cable TV and internet
Find out more at heparks.org/50+club or call 847-885-7500.