Kids Can Learn To Fish at Hoffman Parks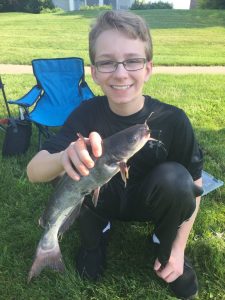 The Hoffman Estates Park District is fishing for local kids age 6-14 who are interested in learning the sport of fishing. This new program will teach kids how to cast, tie knots and safely release fish. Two sessions are offered that run August 4-30 and Sept 6-29 on Thursdays from 6 to 8 p.m. and Saturdays from 8-10 a.m.; classes will be at different lakes throughout Hoffman Estates each week. On Thursday nights, specialists will visit the class to feature different fishing techniques. The fee is $50 for residents and $60 for non-residents.
Classes will be taught by Program Manager Kyle Goddard, who is an avid fisherman who has been fishing his entire life. He has as attended many Fishing Expos, and has taken fishing classes. He often competes in Illinois fishing clubs and has ranked first in his co-angler division. His most accomplished tournament was an Anglers Choice tournament on Lake Egypt in southern Illinois.
"I was basically born with a fishing pole in my hand," said Goddard. "As early as I can remember I had an interest and love for fishing, it started out as a recreational activity and quickly became a passion of mine. Everything I know and have ever learned is a combination of personal experience, my father and watching the professionals on TV."
Class participants must bring their own equipment, but a fishing license is not needed. To register online click here or stop by a park district facility.
The park district maintains 15 parks that have fishing holes including Black Bear, Charlemagne, Chestnut, Evergreen, Fabbrini, Highland, North Ridge, North Twin, Princeton, South Ridge, South Twin, Vogelei, Walnut, Westbury Lake, Whispering Lake, and Winding Trails Basin. To find a park with a fishing hole, click here.
FISHING DERBY August 4 before Party in the Park.