Golf With a Celebrity at the HE Parks' Foundation Golf Outing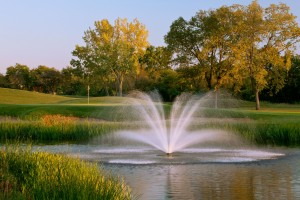 Golfers have the chance to golf with a former celebrity athlete and help raise funds for a great cause at the annual Scott R. Triphahn Celebri-Tee Golf Outing on Wednesday, June 6. All proceeds benefit the Hoffman Estates Park District's (HE Parks) Foundation, d.b.a. Friends of HE Parks, which provides families in need with scholarships to use on programs and classes at HE Parks.
A former professional athlete will be teamed up with each foursome. Golfers will spend a day on the course with celebrities such as Bill Campbell and Paul Popovich from the Cubs, Eric Soderholm from the White Sox, Gene Hiser from the Cubs and White Sox plus many more. The event begins with registration at 11 a.m. and a shotgun start at 1 p.m. at Bridges of Poplar Creek Country Club in Hoffman Estates.
Founded in 1998, the Friends of HE Parks, a 501©(3) organization, has awarded more than $150,000 in scholarships to more than 450 families in Hoffman Estates since the inception of its scholarship program. The scholarship recipients are local residents who would otherwise be financially unable to participate in programs such as youth sports, summer camp, dance lessons, fitness classes, before and after school care, swimming lessons, childhood enrichment and active adult programming.
"Our purpose is to support the park district in its mission to provide recreational opportunities that help improve the quality of life in our community," said Troy Triphahn, chairman of the Friends of HE Parks. "The Scott R. Triphahn Celebri-Tee Golf Outing is a fun networking event for a great cause."
The event is named for Triphahn's late father, Scott R. Triphahn, former HE Parks board commissioner who was instrumental in establishing the foundation.
At the event, golfers several chances to win up to $10,000 in cash or a Pebble Beach golf trip in hole-in-one challenges offered at four different holes. There will also be a $5,000 prize offered at putting contest before the event. In addition, many prizes will be available to win in various drawings at the evening banquet.
Tickets include green/cart fees, dinner and cocktail hour, lunch and drink ticket on the course, hole-in-one and putting contests, and a tee gift. A bloody Mary bar will be available sponsored by Tito's Vodka. Tickets are $150 per golfer and can be purchased online at heparks.org/srt or by visiting one of the park district's facilities. For sponsorship information contact Peg Kusmierski at 847-310-3617 or pkusmierski@heparks.org.
The Hoffman Estates Park District Foundation, d.b.a Friends of HE Parks is a dedicated group of community volunteers who raise money so that more residents can participate in and enjoy recreational opportunities, regardless of their social, physical or economic circumstances and limitations. Founded in 1998, the Friends of HE Parks has given over $150,000 to more than 450 families since the inception of the scholarship program in 2005. For more information visit heparks.org or call 847-885-7500.