Mayor McLeod Declares April 25 Dean Bostrom Day in Hoffman Estates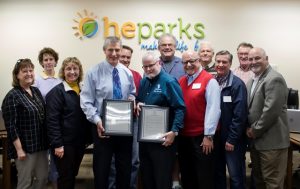 Mayor Willam McLeod attended the April 24 meeting of the Hoffman Estates Park Board to present retiring Executive Director Dean Bostrom CPRE with a proclamation declaring April 25 officially "Dean Bostrom Day" in Hoffman Estates. The community is invited to stop by and congratulate him and meet our new Executive Director Craig Talsma on Thurs 4/26 2-4 PM at Triphahn Center.
Bostrom retires on April 30 after 21 years as the executive director of the park district and boasts more than 35 years in the parks and recreation industry.
"The Village Board and I congratulate Dean Bostrom on his well-deserved retirement," said Mayor McLeod. "Under Dean's leadership, the park district has been a strong partner to the Village, providing abundant recreational opportunities and green spaces for our residents. We look forward to continuing to build upon the foundation Dean has helped to establish."
In January, Bostrom was honored by the Illinois Park and Recreation Association (IPRA) when he was awarded the Robert Artz Lifetime Achievement Award at the state conference in Chicago hosted by IPRA and the Illinois Association of Park Districts (IAPD). In 2008 Bostrom won the IAPD Chairman's Citation and in 2009 he was named the IAPD Honored Professional of the Year.
"I'm fortunate to have had great staff, great people to work with," said Bostrom. "The Board of Commissioners at Hoffman has been totally supportive, I can't say enough about my board. I've had some great mentors throughout my career, starting straight out of grad school. These people have had such a tremendous influence on my life and my career at Hoffman. I just want to thank everybody. It's been a great ride."
Earlier this month, the HE Parks Board of Commissioners announced that Deputy Director/Director of Administration and Finance Craig Talsma, CPA, CPRE will take on the role to replace Bostrom. Talsma has 27 years of experience in the park and recreation field. He joined HE Parks in 1997 as its Director of Finance and Administration and was named Deputy Director in 2012. Talsma holds a bachelor's degree in accounting from the University of Illinois, Urbana Business School. He is a graduate of the National Recreation and Parks Association's (NRPA) Director School and is certified as a parks and recreation professional executive (CPRE).
"It has been an honor working side by side Dean for the last 21 years. He is not only my mentor but my friend," said incoming Executive Director Craig Talsma. "I hope to continue the first class legacy that he has created with our District during his tenure."
"Dean has been a fantastic leader of our park district and community for many years. His vision has advanced the impact of the park district on our community many times over. We wish him well in his retirement," said Park Board President Robert Kaplan.