HE Parks Board Hires New Executive Director
The Park Board of Commissioners for the Hoffman Estates Park District (HE Parks) is pleased to announce the hiring of its current Deputy Director, Craig Talsma, CPA, CPRE as its new Executive Director. The hiring was made official at the Park Board meeting on Tuesday, April 3.
Talsma has 27 years of experience in the park and recreation field. He joined HE Parks in 1997 as its Director of Finance and Administration and was named Deputy Director in 2012. Talsma holds a bachelor's degree in accounting from the University of Illinois, Urbana Business School. He is a graduate of the National Recreation and Parks Association's Director School and is certified as a parks and recreation professional executive (CPRE).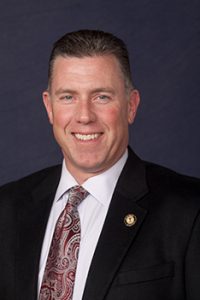 "We are pleased to have Mr. Talsma take on the role of leading our team, and look forward to the leadership and experience that he brings to the table," said Park Board President Robert Kaplan.
Talsma follows the retirement of Dean Bostrom, CPRE, who held the job for 21 years and is retiring with more than 35 years in the parks and recreation industry.
"I look forward to the opportunity of continuing the excellence of our award-winning park district," said Talsma. "I'm very excited to move forward with our dedicated Park Board and talented staff. "
Talsma will officially take over the position at the end of April with the departure of Bostrom.
About HE Parks
Providing first-class parks, facilities, programs and services for a dynamic community of more than 50,000 in the northwest suburbs of Chicago, HE Parks operates two community centers, twin ice arenas, a premier 18-hole golf course, state-of-the-art fitness center, family aquatic center and more than 72 parks. Facilities include Triphahn Community Center & Ice Arena, Willow Recreation Center, Bridges of Poplar Creek Country Club, Prairie StoneTM Sports & Wellness Center, Seascape Family Aquatic Center and Vogelei Park & Barn.
In 2013 HE Parks was accredited by the Commission for Accreditation of Park and Recreation Agencies (CAPRA). It has been recognized as an Illinois Distinguished Park and Recreation Agency by the Illinois Park and Recreation Association and is the recipient of the National Gold Medal Award for Excellence in Parks & Recreation Management by the National Recreation & Parks Association; the highest national honor in the public recreation category.
For more information visit heparks.org or call 847-885-7500.