Wolf Pack and Wolverines Pack Food for Feed My Starving Children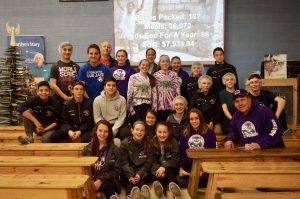 The Wolf Pack boys and Wolverine girls hockey teams of Hoffman Estates spent the afternoon of Jan. 4 packing meals for the charity Feed My Starving Children in Schaumburg. The teams held a friendly competitive "pack off" to see which team could pack more in 90 minutes. Together the teams packed 167 boxes, enough food to feed 98 kids for an entire year.
"That's equivalent to six hockey teams," said Wolf Pack hockey dad Tony LaFrenere. The meals will be sent to malnourished children in Haiti.
The Wolf Pack and Wolverines are travel teams in the Northern Illinois Hockey League. They practice and play games at the Hoffman Estates Park District's (HE Parks) Triphahn Center at 1685 W. Higgins Road.
"Getting the kids involved in volunteer projects is one of the ways we build teamwork," said Assistant General Manager of HE Parks' Ice Operations and hockey coach Randy Jordan.
HE Parks offers hockey lessons and skating lessons for beginners at the Triphahn Center Ice Arena. Registration information is available at heparks.org.