Exec. Director Dean Bostrom Receives Lifetime Achievement Award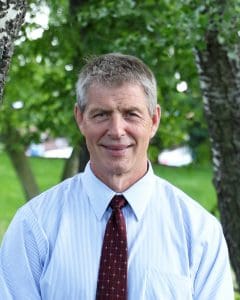 The Illinois Park and Recreation Association (IPRA) awarded the Hoffman Estates Park District's (HE Parks) Executive Director Dean Bostrom the Robert Artz Lifetime Achievement Award at the 2018 Soaring to New Heights state conference in Chicago on Friday, January 19, hosted by IPRA and the Illinois Association of Park Districts (IAPD).
The award is presented each year to a parks and recreation professional who has had a lasting impact and has created awareness of the importance of parks and recreation among his/her peers and in the communities they serve.
Bostrom, who has been the Executive Director of HE Parks since 1997, is planning to retire in April 2018. He has served the park and recreation industry for more than 35 years and has been involved in national, state, and local associations.
"I'm so honored to accept this award," said Bostrom. "I'm fortunate to have had great staff, great people to work with. The Board of Commissioners at Hoffman has been totally supportive, I can't say enough about my board."
This was not Bostrom's first prestigious award. In 2008 Bostrom won the IAPD Chairman's Citation and in 2009 he was named the IAPD Honored Professional of the Year.
Bostrom's accomplishments at HE Parks include having been awarded over $4 million in grants; park acreage grew 30%, to 925 acres; received $3.1 million 12+ acre land donation from Sears to build a 100,000 square-foot state-of-the-art fitness/recreation center. He helped change state legislation to allow for a highway billboard to secure a partnership with the Chicago Wolves. The partnership secured funding for construction of a new ice facility. He partnered with many other local municipalities, as well, to provide services to the community and formed private partnerships raising over $500,000 in sponsorships.
Bostrom also co-founded the Friends of HE Parks foundation in 1999.
Under his tenure, the park district won many prestigious awards including National Gold Medal from the National Recreation and Parks Association in 2009. Accreditation by the Commission for Accreditation for Parks and Recreation in 2014 and 2018 and also accredited by the IAPD/IPRA, annually since 1999 and the Park District Risk Management Association from 2010 to the present. The Illinois Policy Institute awarded the park district its Sunshine Award for government transparency in 2013. The Hoffman Estates Chamber of Commerce awarded the park district its Public Sector of the Year award in 2013 and 2015.
"I want to thank all the colleagues I've worked with over the years," added Bostrom. "I've had some great mentors throughout my career, starting straight out of grad school. These people have had such a tremendous influence on my life and my career at Hoffman. I just want to thank everybody. It's been a great ride."