Meet Coach John Wisely!
Meet John Wisely!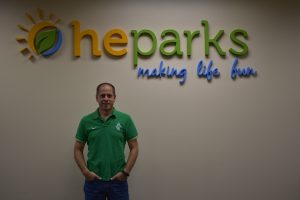 John Wisely was born in Texas, moved around a lot, and has lived in Illinois for the majority of his life. He first became involved with HE Parks when his daughter was playing K-1 Soccer and her Coach, Chris Fox, let him help out. After that, coaching help was always needed and he has been coaching sports for HE Parks like T-ball, running and soccer for eight years.
John decided that he wanted to get E-certified to help him grow and become a better coach, even though he was not required to do so. He explained that each kid is different and learns differently, so it is important to find a way to communicate with each of them. He added with a laugh, "learning to communicate with each kid differently has helped me in other areas of my life, like communicating with adults!"
John recalls many coaching memories that he has learned from. He explains, "I would say my favorite part has been watching the kids grow as well as making friends with the other coaches and parents."
We are lucky to have you, John!