Congratulations Coach Friedman!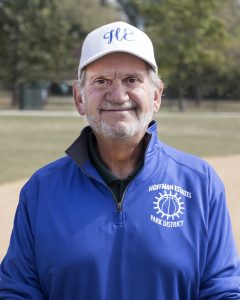 Marc Friedman, volunteer youth athletics coach for the Hoffman Estates Park District (HE Parks), was awarded the Good Sportsmanship Award from the Illinois Association of Park Districts at its annual awards gala on Oct. 13.
Over the past 29 years, Friedman has coached boys' 13-14 baseball, men's 18-35 baseball, and boys' 13-14 basketball at HE Parks. Friedman was named HE Parks Athletics Coach of the Month in August 2017 and Volunteer of the Year in 2009. Je came to Hoffman Estates in 1989 when his five-year-old son joined the soccer program. Friedman offered to help coach the team. This is where his career as a coach began.
He says that coaching boys 13-14 years old is most rewarding. "They are impressionable and moldable," he said. He went on further to explain the importance of not only teaching them the fundamentals, but also preparing them for high school. He engages the players by coordinating team outings to local high school games.
"Marc's best attribute is he goes above and beyond the duties that are asked of him as a volunteer coach by helping to coaches too," said Director of Recreation and Facilities Mike Kies. A handful of the coaches who are currently in the league, and at other park districts, too, have been recruited as coaches through what he calls the "Marc Friedman coaching fraternity" – his network of potential coaches. Once recruited, he always tries to help out the newer coaches.
Several years ago, Friedman taught a group of high school students to coach 7/8th graders. This group is now in college and return during winter breaks to help coach. In fact, Marc knows many men who he coached as boys who now are married with kids of their own, and have come back to coach.
Friedman is also great with getting parents to help out with the team. Apprehensive parents who want to help but are unsure how, gradually become head coaches under Friedman's guidance.
Not only has Friedman been an outstanding coach for so many years, but he has also served on the Park Board as a community representative on the Park Board's Building and Grounds Standing Committee since 2011. Community representatives are volunteers who serve on standing committees. Standing committees are comprised of up to five residents and two park commissioners. Community representatives do not vote, but rather the committees review district matters and make recommendations to the board, which votes during the monthly board meeting.
Friedman is originally from Chicago. He is self-employed at DeCarl Levine & Friedman, LLC, an insurance brokers firm, but his true passion and calling is for coaching youth.
Friedman expressed that he feels so blessed that the park district has allowed him to serve in this capacity for so long. In addition, he credits his wife, Andrea. "In order to do this kind of job, you need a supportive spouse. Without my spouse, I never could have done this. I've been very lucky," he said.
For more information about the HE Parks or volunteering, visit heparks.org.