Meet Coach Dominic!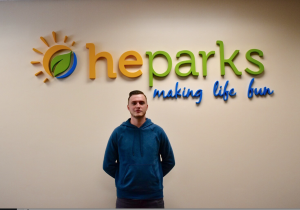 Dominic Hernandez is this month's featured coach! Dominic was born and raised in Streamwood, IL. He attended Hoffman Estates High School and has played soccer for fun throughout his youth and young adult life. Kyle Goddard, Athletic Coordinator for HE Parks, knew Hernandez from High School and decided to reach out to him in the spring of 2017 to see if he would be interested in coaching 1st and 2nd grade boys soccer.
When asked his favorite coaching memory from this spring and summer, he smiled and said, "Every time at the end of a practice, we put or hands in the middle and yell our team name. Every practice I'll tell them to yell our name as loud as they can so the house behind us can hear it. Then after that I would tell them to yell it so loud that the park we used to practice at can hear us, then it turned into yell so loud that Hoffman Estates can hear us!" Hernandez laughed, "It's fun to see them so excited."
Hernandez explained that as long as these practices and games continue to fit into his schedule, he would love to continue coaching. "It's definitely fun. It's not what I expected. I actually thought it was going to be more stressful because, obviously, these kids want to learn and win games. However, it's definitely interesting to see that they are just there to have fun. That makes it easy for me because I want to have fun too!" Hernandez went on to explain that this has been such a rewarding experience seeing these boys develop skills, learn how to pass the ball, understand their positions, and grow.
Thanks for your time and commitment Coach Dominic; HE Parks is lucky to have you around!