Youth Sports Coach of the Month: Marc Friedman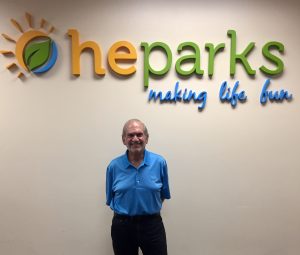 Update: Marc Friedman will be presented the Good Sportsmanship award by the Illinois Association of Park District at this month's Awards Gala. Congratulations Marc!
HE Parks Athletics would like to introduce August's Coach of the Month, Marc Friedman! Marc is originally from Chicago, IL. He is self-employed working at DeCarl Levine & Friedman, LLC, an insurance brokers firm, but he also has a passion for coaching.
Friedman came to Hoffman Estates when his son turned five years old. He recalls getting his son involved with the soccer program at the HE Parks in 1989, and offered to help coach the team. This is where his 29 years of coaching and 2 years of refereeing basketball began. Friedman met Mike Donatucci when he was the assistant coach of his son's t-ball team in the 90's. When Donatucci obtained the head football-coaching job at Fremd, Friedman became the full time coach for coach pitch. He was able to coach his son all they way up to the 18-35 Palomino league. When asked if coaching his son was his favorite part, he smiled and said he loved coaching his child but the best part was when he was able to coach the Pony league alongside his son for 5 years.
Over the past 29 years, Friedman has coached boys' 13-14 baseball, men's 18-35 baseball, and boys' 13-14 basketball.
He says that coaching boys 13-14 years old is his favorite, "They are impressionable and mold-able." He went on further to explain the importance of teaching them the fundamentals and preparing them for high school. He does this by taking them to watch some local high school games.
Not only has Marc been an outstanding coach, but he is also a HE Parks community representative. Marc expressed that he feels so blessed that the park district has allowed him to do this for so long. In addition, he credits his wife, Andrea. "In order to do this kind of job, you need a supportive spouse. Without my spouse, I never could have done this. I've been very lucky."
We have been lucky to have you too Marc, way to go!