Executive Director Bostrom Set To Retire In Spring 2018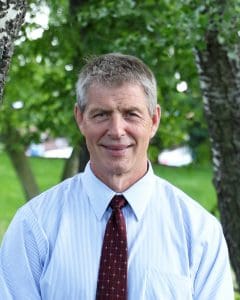 Dean Bostrom, Executive Director for the Hoffman Estates Park District (HE Parks), announced his intent to retire in the spring of 2018 at the July 25 park board meeting. Bostrom has served in the parks and recreation industry for 35 years and has been involved in national, state and local associations throughout his career.
Bostrom joined the HE Parks as Executive Director in 1997. Under his leadership the district won the highest honor in 2009 for any parks and recreation agency, the National Gold Medal award from the National Recreation and Parks Association (NRPA). The district also achieved national accreditation in 2013 by the Commission for Accreditation of Park and Recreation Agencies (CAPRA). It is recognized as an Illinois Distinguished Park and Recreation Agency by the Illinois Park and Recreation Association (IPRA). HE Parks was one of the first districts in Illinois to have achieved all three honors.
"When Dean joined the park district in 1997, his energy and passion for his work were immediately apparent," said Park Board President Robert Kaplan. "His vision for the park district and its ability to impact the community has proved invaluable over the years. In addition, he has provided exceptional leadership to his staff over the years. Through all his hard work and direction, he has lifted the Hoffman Estates Park District to an unsurpassed level of excellence and professionalism. We are going to miss him when he's gone, and hope that he will come back to visit."
With Bostrom at the helm, the park district scored 98.7% for safety in 2013, well above the 95% required for the accreditation awarded by the Park District Risk Management Agency (PDRMA). It also received a Certificate of Achievement for Excellence in Financial Reporting (CAFR) in 2014, 2015 and 2016.
Bostrom himself received several professional awards as well; he was recognized with the Illinois Association of Park District (IAPD)'s Chairman's Citation in 2008 and won the prestigious IAPD Honored Professional of the Year award in 2009.
"What I am most proud of are the successful inter-governmental cooperative agreements and public/private partnerships that the park district has formed over the years," said Bostrom. "I think these arrangements have helped to make Hoffman Estates such a great community to live in and raise a family."
Throughout his tenure, Bostrom established inter-governmental agreements with numerous organizations including the Village of Hoffman Estates, City of Elgin, Schaumburg Township, Palatine Library District, Barrington Library District and School Districts 54, 211, 15 and U-46 as well as numerous area park districts.
The awards and achievements the park district accomplished just scarcely scratch the surface of the many honors and milestones that HE Parks has earned during Bostrom's tenure and under his leadership, such as:
Bostrom co-founded the Friends of HE Parks foundation in 2000 and has served on its board as a trustee and secretary since its inception. Each year the foundation awards scholarships to needy families. In 2016, nearly $20,000 was awarded to 42 families.
Spearheaded the establishment of a partnership with the Chicago Wolves Hockey team and in 2004 expanded by 90,000 sq. ft. the community center adding two official size ice rinks, the creation of a senior center, the renovation of the fitness center and new administrative offices. The rink is still home to the Chicago Wolves Hockey team today.
Through a $3 million, 12.09 acre land donation from Sears Holdings Corp. in 1999, Bostrom orchestrated the acquisition of property in the Prairie Stone Business Park to build a 100,000 square foot facility with 12,000 square feet of workout space for a fitness center, two swimming pools, three basketball courts, a three-court gymnasium, three tennis courts, a climbing wall and an indoor walking/running track.
One of Bostrom's first achievements was to reach out for community input with an Attitude & Interest Survey to provide direction for the development of a five-year Comprehensive Master Plan. After a year-long research and development process, a five-year Comprehensive Master Plan was approved by the board in January 1999 to provide a strategy of constructive action for the years 1999 through 2003. This process has continued every 5 years ever since.
His dedication and unrelenting pursuit to provide all citizens of his community with the best parks and recreation experience resulted in a steadily rising overall community satisfaction rating, up from 75% in 2008 to 94% in 2013.
In 2003 secured a $400,000 grant from the Illinois Department of Natural Resources to help develop Vogelei Park with playground, picnic shelter, fishing pier, water play area, bike safety town, interpretive nature gardens and pathways at Vogelei Park.
Through innovative and forward thinking, the park district built four dynamic digital LED billboards in 2016 to help market the park district's programs and services. This $1.1 million project required seven years of planning, negotiations, and the securing of permits through state and local government bodies, and was funded entirely without using any taxpayer funds. This signs have resulted in additional revenue and newfound success district-wide in programs and events at participation levels never before reached.
Through a $184,700 grant from the Illinois Department of Natural Resources, the park district developed Canterbury Park Place, a 16.5-acre site donated by a land developer. The park boasts an off-leash dog park, baseball field, playground, and wetland areas.
In 2012 the park district secured a $112,500 Open Space Land Acquisition Development Grant (OSLAD) and with matching funds transformed an empty lot into Tropicana Park.
Through the development of cooperative relations with the business community, the district was named Public Sector of the Year by the Hoffman Estates Chamber of Commerce in 2013 and 2015.
For its commitment to green practices and sustainability, the park district was named as a Green Business by the Village of Hoffman Estates in 2013.
Bostrom's career began as Manager of Special Facilities at the Rockford Park District from 1982-1985; then he served as Superintendent/Director of Parks and Recreation with the City of Richmond, Indiana from 1986-1990. He was hired as the Executive Director of the Lombard Park District from 1990-1996 before joining the HE Parks in January of 1997.
He has always recognized the importance of involvement in the industry and has been a member IPRA since 1977 and has served on its board of directors and numerous committees. He has also served on the board of the Northwest Special Recreation Association since 1997 and was its board president 2001-2002 and 2007-2008. He has been a long standing member of the NRPA since 1981.
Education has always been a focus for Bostrom. He holds a BS degree in Therapeutic Recreation from Illinois State University and a Masters in Parks and Recreation from the University of Illinois Champaign/Urbana. He was among the first to achieve status as Certified Parks and Recreation Professional and Certified Parks and Recreation Executive.
"My personal goal has always been to would leave every community that I worked in a better community than when I arrived and that I would help build and maintain the community's trust and pride in their park and recreation agency," said Bostrom. "Over the past years working together with so many hard working and passionate professionals, dedicated resident volunteers and a board of commissioners who truly gets 'it' I feel we will have accomplished that goal."
About the HE Parks
Providing first-class parks, facilities, programs and services for a dynamic community of more than 50,000 in the northwest suburbs of Chicago, HE Parks operates two community centers, twin ice arenas, a premier 18-hole golf course, state-of-the-art fitness center, family aquatic center and more than 70 parks. Facilities include Triphahn Community Center and Ice Arena, Willow Recreation Center, Bridges of Poplar Creek Country Club, Prairie Stone Sports and Wellness Center, Seascape Family Aquatic Center and Vogelei park and barn.
For more information visit heparks.org or call 847-885-7500.