Eagle Scout To Build Monarch Butterfly Garden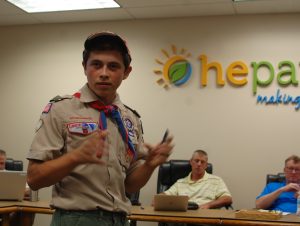 At the July 18 Recreation Committee meeting, Eagle Scout Xavier Vazquez proposed building a Monarch Butterfly garden at Willow Recreation Center as his Eagle Scout project.
The Monarch Butterfly is losing its habitat and numbers of the monarch have decreased significantly over the years. There is a massive effort in the United States to provide habitat for the butterflies along with imperiled bumble bees and other pollinators. Xavier's project will allow HE Parks to help in the efforts to save the Monarch Butterfly. As part of the project, Xavier will be fundraising and looking for donations to support the project.
Those fundraising efforts are currently being discussed and worked through. The anticipated total cost of the project is between $700 and $1,000; Xavier is responsible for the required finances as part of the project completion requirements. Xavier does have a presentation to make during the meeting to the committee. The garden will be planted on the north end of Willow Recreation Center between the tot lot and the tennis courts. Xavier will work with the HE Parks Park Maintenance dept. to select the plants to be used and signage will be placed explaining the types of plants used.
The proposal goes to the Park Board on July 25 for approval. Good job Xavier!